11-26-2018
1. Choose locally owned and operated
When buying from a local company, you have the benefit of knowing that the company will be there if ever needed. Find a full-service solar company who always has a team near you. A local solar company's customers are their neighbors, differing from the values of a large national installer. Local companies are inspired by bettering the communities that they live in. Community is a core value, so it's imperative to find a company who is focused on more than just the bottom line.
Local companies are also experts in local building and electrical codes and will work with you on all aspects of your installation. and will provide you with a customized design based on your energy needs, type and layout of your roof, and investment goals.
Every local municipality has different permitting and building code standards, and they change frequently.  If your installer has a strong relationship with the local permitting offices and inspectors, it can help your installation go smoothly, avoiding potential hold-ups caused by changes in local codes or utility requirements.
2. Choose Top Customer Care
Finding reviews from real people who have experienced what a company has to offer can help you find a great company as well as avoid horrible mistakes. Find a company that has glowing reviews from past customers. Reviews can show what kind of customer support and services a company provides. You definitely want to find a company whose employees are responsive, caring, and knowledgeable, and make sure you choose a solar installer who has teams working with you every step of the way.
Below you can read a few reviews from our valued customers. If you want to read more reviews, you can visit Solar Reviews or Google Reviews .
Customer Testimonials
 I recently had solar panels installed by Solaris Renewables and the process couldn't have gone more smoothly. They were top notch from start to finish. Very helpful, very responsive, and the crew was courteous and polite the day of installation. A+

– Kimberly Y., Andover, MA

Knowledgeable & personable sales rep & friendly installation crew! We LOVE our new solar system from Revolusun! Our highest recommendation!

– Colleen P., Gardner, MA

I met with 8-9 solar companies and chose Solaris Renewables because they were the most knowledgeable, sell only the best solar panels/inverters, and the warranty is excellent (25 years). The service was superior throughout the entire process, including the follow-up. I highly recommend them.

– Norm G., Rutland, MA
With the increasing popularity of solar systems, homeowners are looking for buy quickly. A quality solar system is not a one-size-fits-all project or something you can simply order online. Often times, solar companies will offer "quick quotes" online without even visiting your home's site or taking any measurements. To put things in perspective, would you let a contractor redesign a part of your home and order new parts and materials without visiting or getting to know you and your project goals? Most people would answer no. It is crucial to choose an installer who will take the time to personally come out to assess your home and roof, understand your energy use and lifestyle, and investment goals before promising an accurate quote.
3. Choose Quality Solar Panels & Installation Techniques
Not all solar panels are the same
There are three types of solar panels in the industry right now: amorphous, monocrystalline and polycrystalline. Amorphous panels are made by placing a thin sheet of silicone on a sheet of steel, these panels have become the cheaper, least efficient panels in the industry. Polycrystalline have increasingly become more popular, as you may see them from the street by their blue color. Polycrystalline panels are efficient, but take up more space than monocrystalline. Monocrystalline panels have been the most popular choice among consumers. They are the most efficient and require the least amount of space on a roof or the ground.
The right solar products depend on the individual or family's lifestyle, preferences, roof size, and desired investment strategy. Before choosing solar products, find out what you value and what your home needs. Whichever solar panels you decide are best for your needs, make sure the company you go with has the type of solar panels you want. Some companies only specialize in one or two of these solar panels. You will also want to ensure that the solar panels are high-quality and from reputable manufacturers.
Framing makes a difference
Framing is also important; it's the skeleton holding together your solar cells. It is easily overlooked when selecting solar panels for a commercial or residential installation. Conventional solar panels' frames can warp and break over time (below).
SunPower is known throughout the solar industry for its durability. SunPower solar panels have Class 1 black anodized framing, which is the highest rating through the American Architectural Manufacturers Association (AAMA). SunPower's cell (Maxeon Solar Cell) is the only solar cell built on a solid copper foundation or backing, and it's impervious to the standard corrosion and cracking that degrade conventional panels. SunPower has also ranked exceptionally high in various durability tests.
Exceptional power production
SunPower and Panasonic solar panels are both monocrystalline solar panels. According to SolarReviews.com, SunPower and Panasonic panels are among the Top 20 Solar Panels in 2018. SunPower and Panasonic panels are, on average, 25% more efficient than conventional panels, per watt. Most solar panels have only 80-84% of day-1 production in year 25. During year 25, SunPower Equinox systems have 92% day-1 production and Panasonic HIT systems have 91% day-1 production, respectively.
Customized solar design
To save costs, some companies have templated designs and might not be able to customize a solar system specifically for your home. Solar installers who specialize in a region or state can typically design a much more customized solar installation to fit special architectural needs or building materials.
Wire management
Proper wire management is crucial for both the longevity and aesthetic of your solar system. Unfortunately, improper wire management can be a standard practice. This involves running an unsightly conduit across the roof or down the side of the home. Proper wire management involves hiding any otherwise visible wires, protecting your equipment from the harsh elements and the look of your home.
Improper wire management
Proper Wire Management
Proper wire management includes hiding the main conduit and electrical wiring under the racking and in the interior of the home, usually through the attic or garage.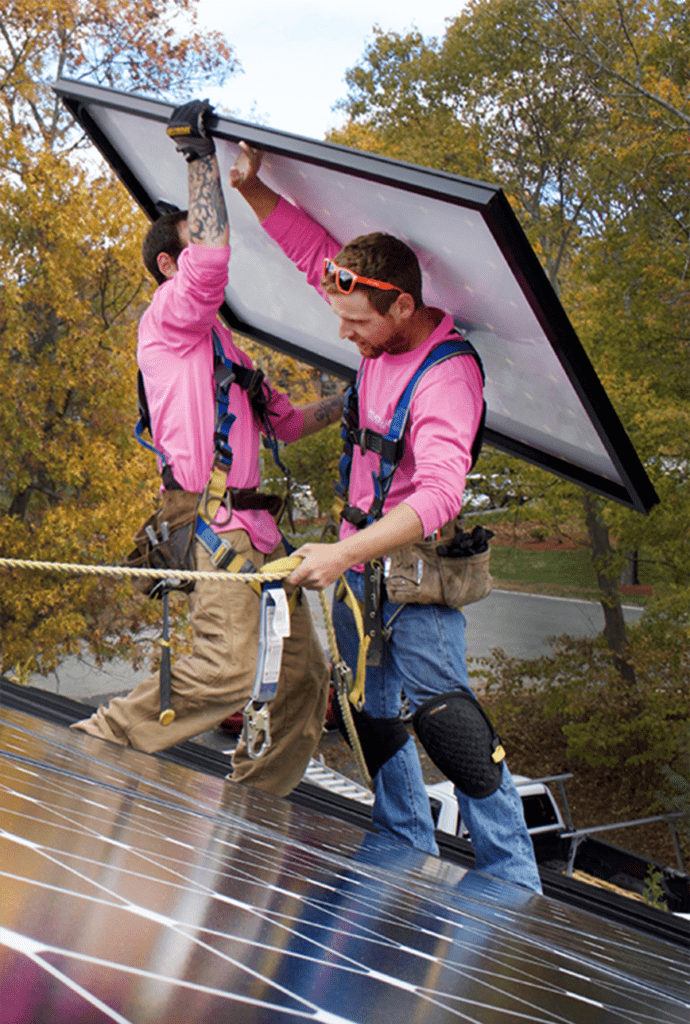 4. Choose Best-in-the-Industry Warranties
Warranties are an important part of choosing a solar system. While most solar panels will go decades without any issues, it is important to have a solid warranty in case something does happen. A strong warranty means your installation company will be by your side in the long term, which is important for ensuring your return on investment. Warranty policies include performance guarantees, labor, and equipment.
You should look for a company that has:
25-year product (equipment) warranty 

that covers things such as the removal of faulty panels, and the shipment and installation of the new replacement panel(s). These warranties also guarantee power production by the kilowatt hour.

25-year production (performance) warranty 

that offers a guarantee of 90% power production at year 25. This is a promise between the installer and the customer that the quality of the system won't significantly diminish over time.

5. Choose Diverse Financing Options
Many solar companies encourage buyers to use their solar financing packages since income from financing is an important part of their business model. You won't always be required to do that, but just be aware that you have a choice when it comes to solar financing. So, find out whether this as an option offered by your solar installer.  Larger, national installers tend to push solar leases on customers without explaining the major payoffs from purchasing. Smaller, regional solar installers are typically more flexible when it comes to financing a home solar system.
Going solar can seem expensive at first, but at this point, you probably understand your quick return on investment and monthly savings. However, there are several financing options for your new investment. Each of these options different components to consider before making a final financing decision.
Leasing your solar system

Purchasing your solar system up front

Getting a loan for your solar system
Go Solar With a Trusted Contractor
Solar can seem complex, but we're here to help. If you are interested in chatting more about Solaris Renewables as an installer for your next solar project, contact us to learn more about solar energy from our own in-house experts.