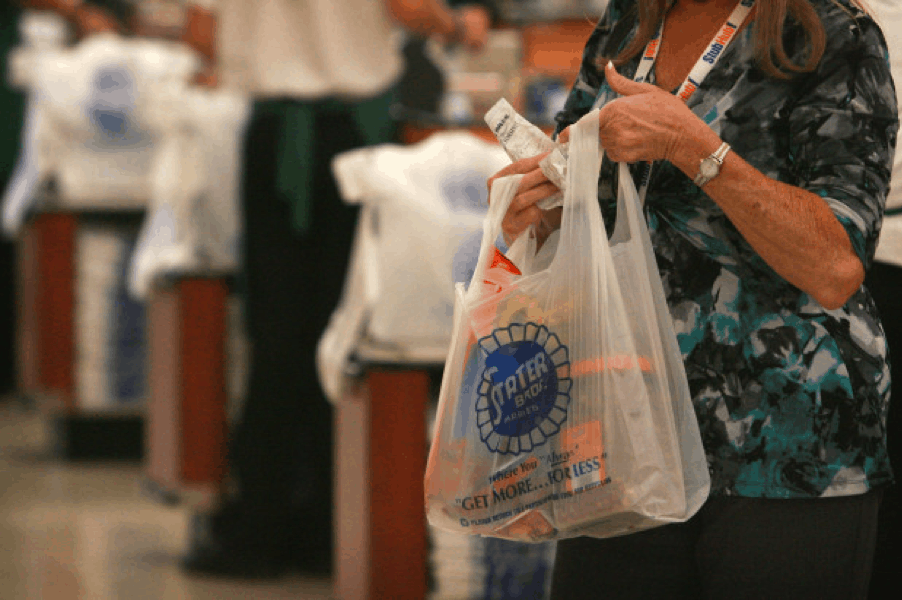 In 2018, plastic straw bans swept the nation. Cities and companies alike set out to ban them in an effort to reduce pollution. Now, it seems that plastic bags are the new focus. Just as with straws, the goal is to move towards a future free of single-use plastics, and starting with nonessentials like plastic bags and straws makes the challenge much easier to begin.
The Town of Burlington, home to our office, put its plastic bag ban into effect in September 2019, but over 100 towns across Massachusetts already have effective bans in place. While bills have been proposed to ban single-use bags statewide, they remain unapproved by the statehouse. Some critics claim the bans are an inconvenience and financial stress for small businesses since paper is more expensive than plastic. Whatever side you're on, it's time to take a look at the complexities of non-reusables and different ways to prevent unnecessary waste in our throwaway culture.
The Problems With Plastic 

Plastic bags are just one example of single-use plastics. Items like coffee stirrers, soda bottles, and most food packaging add to the category. By definition, single-use plastic is any plastic item used only once before it is thrown away or recycled. 
But, because single-use plastic is everywhere, it's going to be hard to shake our habits. Fans of plastic bags may justify their existence by using them more than once as trash can liners or waste bags for pets. In some cases. The common "Thank You" design has even become a cultural symbol. However, plastic's burden on the environment is indisputable and outweighs its convenience.
Where Does It All Go?
Whether you ditch your plastic bag right after a trip to the grocery store or reuse it as a trash can, sooner than later you'll end up getting rid of it. With an average use time of 12 minutes, these disposables add up fast. Tossing items often sparks an out of sight, out of mind attitude, but the effects of single-use plastic continue long after disposal.
The first plastic bags ever produced are still sitting on the earth's surface today. Only one-percent of all single-use plastic bags are recycled and none are biodegradable. Most towns also lack the proper facilities for plastic bag recycling. Unless you've checked with your local recycling centers, there's a good chance any bags you've attempted to recycle have actually ended up in landfills. Once these bags make it to landfills, they'll remain there for hundreds of years. Unfortunately, the lightweight bags are infamous for catching a breeze and traveling beyond landfill confines, often ending up in delicate ecosystems.
Effects on Marine Life
Oceans and waterways are among the most common spots for plastic bags to end up. It's estimated that 17.6 billion pounds of plastic makes its way into the ocean every year, equaling a garbage truck's worth of dumping every minute. All this plastic pollutes ocean environments and ends up eaten or lodged into marine life. Over 100,000 marine animals are killed by single-use plastic bags alone each year. This doesn't include the vast number affected by other plastic pollutants.
As plastic in the oceans builds, floating trash composites or islands form. The most infamous is the Great Pacific Garbage Patch, containing 80,000 metric tons of plastic. However, this isn't the only giant mass of garbage floating in the ocean. It's estimated by 2050, there will be more plastic in the ocean than fish, painting a grim picture for the natural world.
A Fossil Fuel Friendship
Plastic is a petroleum-based material that consumes about one-tenth of our oil supply. Oil is both a component of plastic bags and the main energy source used to manufacture them. This double dose of fossil fuel use dramatically increases environmental pollution. As a nonrenewable resource, oil is finite, but our use of plastic is exponential. Every year, we allocate 12 million barrels of oil to plastic bags alone.
Are Paper Products the Answer?
As town-wide plastic bag bans spread, retailers turn to alternatives like paper bags. Just as the plastic bag holds cultural significance, paper bags bring back memories of covering school textbooks and trips to small-town general stores. To the average consumer, paper seems like a more environmentally conscious choice. Even the texture of the bag seems more natural than the processed sheen of plastic, but is it really a step in the right direction?

The Reality of Paper Bags
From start to finish, the life of a paper bag reveals a series of contradictions to its believed environmental sustainability. Manufacturing them is a lengthy process that requires tons of resources, ranging from the trees cut down for the paper itself to the 40 billion gallons of water required for production. Paper bag assembly also releases 70-percent more air pollution during production than plastic bags. Heftier paper also results in increased shipping costs and fossil fuel emissions, compared to lightweight plastic.
Pollution Continues Past Production
While paper bag production and transportation is environmentally taxing, life after the first use isn't more promising. Paper is often considered more reusable than plastic, but in reality, isn't very sturdy. Easily torn and unusable once wet, these bags don't see much more reuse than their fossil fuel-based counterparts. Recycling may seem like a way to reduce waste, but this isn't necessarily true or often put into practice.
Only an estimated 15-percent of paper bags are recycled, an improvement compared to the 1-2-percent of plastic bags, but still no victory. The remaining 85-percent of paper bags end up in landfills or the environment. Under ideal circumstances, paper breaks down after one or two months, but often takes 10 or more years in landfills due to little access to light and oxygen. The end result is piles of single-use containers taking over landfills and natural spaces alike.
Reusables are the Real Winner
The best option is to avoid single-use items altogether. One reusable bag has a lifetime equal to 700 single-use bags, reducing the need for constant replacement and disposal. With the current push for greener living, reusable bags are easy to obtain and are sold in most grocery and department store checkouts for convenience. However, not all reusable bags are created equally. If you're looking to choose the most environmentally friendly alternative, it's important to take note of what your reusable bag is made from.
How to Choose Your Reusable Bag
The impact reusable bag manufacturing has on the environment is greater than single-use bags, but they're still the greener option. While it may take fewer resources and less energy to produce, a single-use bag is only used once and therefore more will need to be produced to satisfy the demand.
What's important about reusables is their break-even point or the number of uses required to outweigh the burden of its production. The best reusable bags have a low break-even point, requiring a small number of uses to compensate for its production. Bags made from hemp, jute, and bamboo have the lowest break-even point. In contrast, cotton bags have a high break-even point of 173 uses since the crop requires large amounts of water to grow and transform into fabric. Many reusable bags are actually still made from plastics, particularly Nylon and Polypropylene, contributing to our reliance on fossil fuels. While these bags are better than single-use options, they're not the greenest choice.
Considering Biodegradable Options
In addition to reusable bags, some companies have started making the switch to bioplastics. Bioplastics are any plastic made from natural sources other than petroleum. While bioplastics can be made from greener sources like mushrooms and hay, they're not currently the best alternative to plastic. Even though bioplastics are frequently labeled biodegradable, they do not degrade any faster than paper bags. If bioplastics are not composted in the proper facilities, they can migrate into marine habitats and become another detrimental source of pollution.
It's important to note that bioplastics still perpetuate a reliance on single-use products. The ultimate goal is to move away from disposables entirely. Substituting plastic for another single-use item doesn't solve the waste crisis as constructively as reducing initial consumption.
How Will You Adjust to Life Without Plastic Bags?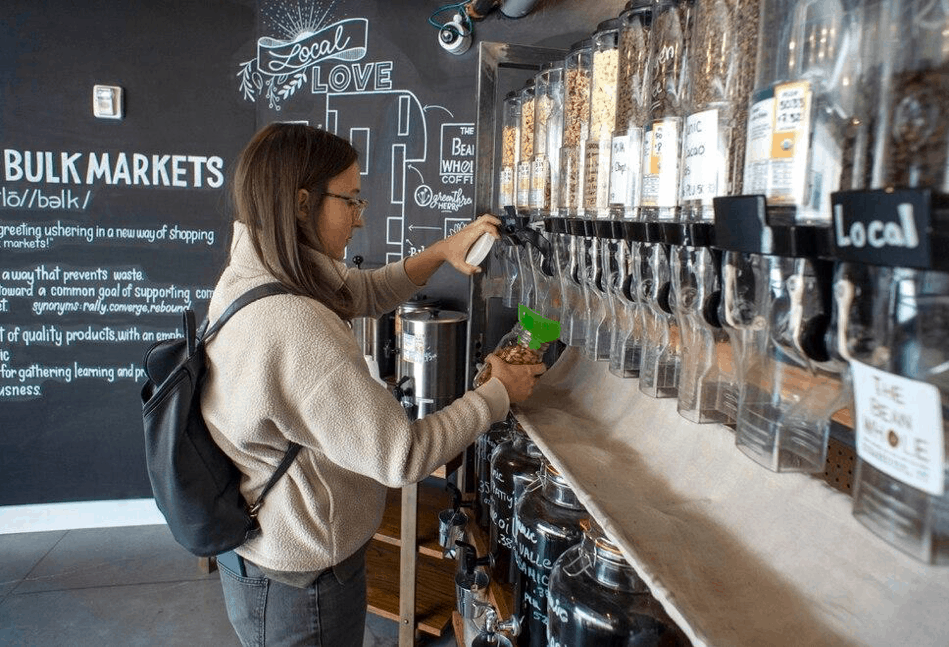 Plastic bans and taxes are starting to reshape purchasing culture. Banning plastic at the checkout is a solid step towards eliminating single-use plastics, but it's worth thinking twice about every plastic choice while shopping. From produce bags to packaging, plastic has infiltrated every aspect of consumption.
Some retailers, like Whole Foods, as well as local farmer's markets, encourage bringing your own reusable jars or containers for their zero-waste items like oats or nuts. Stores have also started making reusable produce and snack bags more readily available. Even food brands have started to get in on environmentally friendly or reduced packaging. Honest Tea has a cradle-to-cradle certification on all of its glass bottles, noting renewable energy use in production and entirely reused materials. Also, many previously single-use items, such as cotton swabs and water bottles, are now available in reusable options.
Plastic bag bans are a stepping stone to a greener future, but it's important to continue thinking critically about the variety of lifestyle changes needed to protect our Earth, like switching to renewable energy.
Be Greener
Whether you're wondering if solar would work for you or you're ready to book an assessment, the next step is reaching out to us. No commitment or pushy sales reps – just trusted partners on your journey towards energy independence.