We're proud to offer commercial solar solutions for small and medium-sized businesses across Massachusetts.
Our expertise in project management, system design, installation, and financing make going solar easy. Using solar energy is a smart strategy for any company, and we'll work with you to build a system that meets your business's unique needs.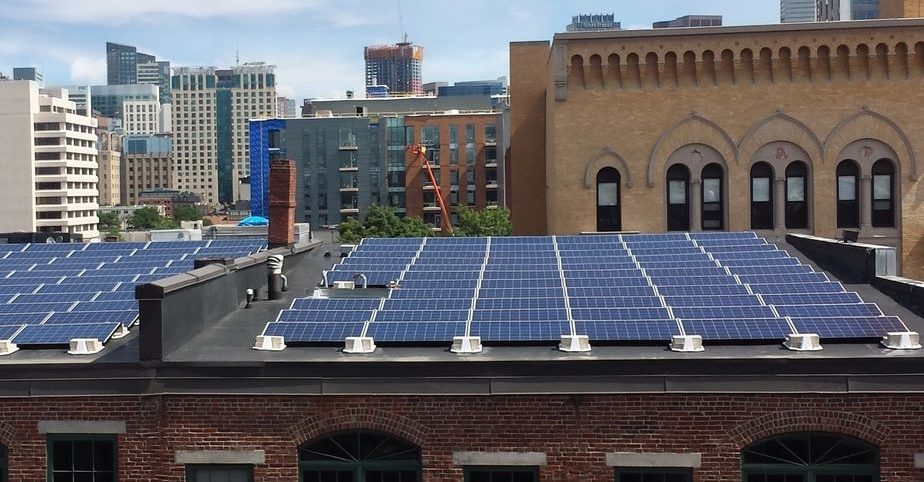 Energy Consultation
The first step to going solar is our thorough energy consultation. On your schedule, we'll cover everything from solar technology to financing and incentives. Our assessments include:
A site evaluation to finalize how many solar panels that can be placed on your site, the amount of sunlight your system will capture, and how much your business will save by going solar
Samples of our products, photos of our work, and helpful leave-behinds
A clear explanation of financing options, including leasing and owning, and a list of all federal, state and local incentives available to your business for going solar
A list of other businesses near you who have worked with us and can serve as examples of our outstanding workmanship
Commercial Solar Installation
Generating your own clean electricity allows you to lock in low monthly energy costs so you can save money on electric bills and budget better. Plus, solar provides you with an opportunity to showcase your commitment to the environment to customers.
Your business likely runs the same time that the sun is shining, so solar panels enable you to efficiently power your property by capitalizing on the sun's peak power. We'll work with you on solutions that make sense for your business, including but not limited to:
Rooftop Solar
Ground-mounted Solar
Solar Trackers
Carports – Solar Covered Parking
Solar Production Monitoring
Battery Storage Installation
Battery storage, like Tesla Powerwall, is the perfect complement for your small business' solar system. With solar + storage, you can reserve the surplus electricity you generate and use it in the early mornings and late evenings when sunlight isn't as strong. This further decreases your reliance on the grid, reducing your energy costs and carbon footprint even further. You can also use it to power your most critical loads during an outage.
Solar System Maintenance
Our comprehensive warranties include parts, labor, and shipping of your entire solar system for 25 years. We're also available, long after the installation is complete, to give you regular support and keep your solar system running efficiently for years to come.
Additionally, we service and add solar panels to systems that we did not originally build. Our team can walk you through what a solar system expansion would look like.
Solar Financing Options
Cash Purchase
When you purchase your panels, you own the energy you produce. This is typically the most beneficial approach because it allows you to take advantage of tax credits and other incentives. Massachusetts businesses that select this option typically see a return on investment within five years or sooner – and the savings (and earnings) continue far beyond that.
Solar Loan
Solar loans operate in the same manner as most loans people are familiar with, except the interest rates tend to be much fairer. Make monthly payments equal to or less than you would make on your electric bill before eventually purchasing your solar system. Plus, you can still take advantage of solar incentives and tax rebates.
Solar Lease
Pay a monthly solar lease equal to or less than your current electric bill. The monetized value of the lessor's equipment tax benefits is used to subsidize lessee's payments, which typically results in immediate savings compared to utility costs. Since the lease payments are being made towards capital equipment costs, they are tax-deductible, improving the financial benefit of this approach. Leasing with Solaris Renewables still allows you to eventually own your system if you so desire.
For more details about commercial solar financing and how it would apply to your business, reach out to us.
Commercial Solar Incentives
Tax Credits
Earn back 26% of the total cost of your installation through the Federal Investment Tax Credit (ITC) and receive an additional 15% Massachusetts state tax credit worth up to $1,000.
Modified Accelerated Cost Recovery System
The Modified Accelerated Cost Recovery System (MACRS) helps businesses recover costs through annual depreciation tax deductions. Businesses can value solar as "five-year property" and claim a tax deduction. This benefit is dependent on the asset owner's taxable bracket. An accelerated schedule results in the full benefit being claimed in the first year of operation. A total tax benefit can equate to up to 50% of the gross system cost.
Net Metering
Net metering allows most grid-tied system owners to send excess electricity to utilities in exchange for credits on their electric bill. At the end of your billing cycle, your remaining credits are rolled over to the next billing period, and you can use them when your solar production is lower.
SMART Program
The Solar Massachusetts Renewable Target (SMART) Program is a performance-based incentive program that compensates you for the electricity you produce. You'll receive a check based on your energy production each month for ten years.
Commercial Solar Project Spotlight
Healthy, productive orchards are essential for great-tasting cider, so protecting the environment has been at the core of Lookout Farm Brewing & Cider Co. since Jay Mofenson opened the Natick, Massachusetts cidery in 2015. With over 300,000 kWh of electrical usage every year, Jay wanted to offset his environmental impact, and in 2017, we teamed up to power his facility with solar.
The large barn that's home to the cidery fit 278 solar panels, which are now producing over 116,000 kWh of power each year. Within two and a half years, from incentives and reduced energy costs, the system completely paid for itself. Not only did the solar installation diminish the cidery's carbon footprint, but it also shrank their operation expenses.

When we first started, we had two goals. The first was to make the best cider we could possibly make. The second is we wanted to be socially and environmentally responsible.
Jay Mofenson, Lookout Farm Brewing & Cider Co.
Specifications:
System Size: 94.5 kW
Panel Quantity & Type: 278 Panels; 340-watt SunPower solar panels
Average Annual Energy Production: 120,427 kWh
Payback Period: 2.5 Years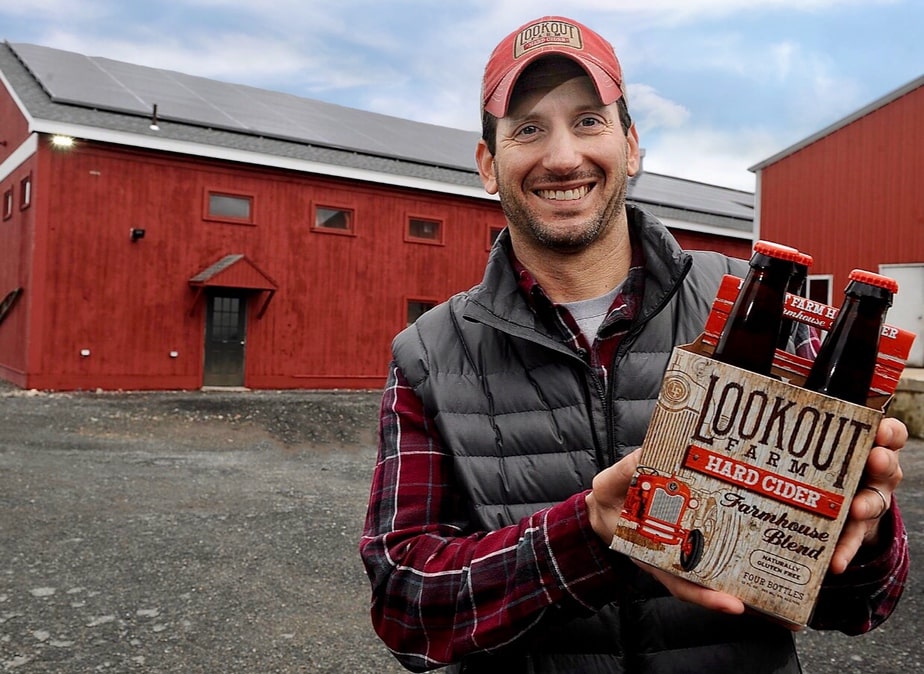 Let's Make Your Business Shine
Set up a no-cost consultation so you can take your business to the next level. Whether you're looking to build your system from the ground up or add to an existing solar system, we're here to answer any questions and explore solar technology and financing options.