As a local solar company, our customers are our neighbors. With a full team in our Burlington, MA office and in the field, we work hard to bring the communities of Massachusetts closer to a clean energy future. And, we take care of the entire process for going solar. If you're happy, saving money, and reducing your impact on the planet, then we're doing our job right.
Energy Consultation
The first step to going solar is our in-home consultation. On your schedule, we'll cover everything from solar technology to financing and incentives. Our assessments include:
A site evaluation to finalize how many solar panels you can place on your property, the amount of sunlight you can expect to capture, and how much you'll save by going solar
Samples of our products, photos of our work, and helpful leave-behinds
A clear explanation of financing options, including leasing and owning, and a list of all federal, state and local incentives available to you
A list of references in your area who have worked with us and can serve as examples of our outstanding workmanship
Solar Financing Options
Wondering if you should lease or purchase your system? We'll explore your lifestyle and present you options for financing your new solar project. No matter what you choose, solar will save you money on your electricity costs and provide tremendous value to your home.
Solar System Lease
Leasing solar panels lock you into a fixed rate, lower than your current electric bill, for clean electricity. At the end of your lease, you have the option to own your solar system.
Solar System Ownership
By purchasing your solar system, you'll receive the highest return on investment by benefitting from both the power you generate and solar incentives. Various loan options are available with monthly payments equal to or less than your current electric bill.
Solar Panel Installation
Unlike other solar companies, we execute every aspect of project planning. Our team is responsible for the permitting, design, engineering, and installation of beautiful solar systems that outperform for decades.
Our crew exceeds industry standards with clean wire management that complement the aesthetics of your home, up to 50% fewer penetrations in your roof, and a No-Leak Guarantee that ensures your investment goes a long way. After installation, we'll work with your utility company to energize your system and connect it to the electrical grid. So you can sit back, relax, and start saving.
Battery Storage Installation
While you can have solar without energy storage, storage turns your home into an energy-independent powerhouse. A battery storage system collects power from your solar panels, or the grid when electric rates are their lowest, to use during an outage (or whenever you wish).
As long as you are not "off the grid," your solar system will be grid-tied, enabling you to use grid electricity when your solar production is low, and sell electricity to the grid when your production exceeds your needs. Because of this, when the grid goes down, grid-tied solar panels won't be able to power your home. Otherwise, you'd be feeding power into the grid when the utility workers are fixing power lines, potentially endangering them.
With Tesla Powerwall, you'll automatically and temporarily disconnect from the grid when the power goes out and run your home off of your stored power. Then, you'll recharge Powerwall with solar or grid power and you're ready for the next outage.
Solar System Maintenance
Our superior and comprehensive warranties include parts, labor, and shipping of your entire solar system for 25 years. And we're available, long after the installation is complete, to give you regular support and keep your solar system running efficiently for years to come.
We're also available to service and add solar panels to systems that we did not originally build.
Other Energy Solutions
We are partnered with top local contractors to provide additional energy services. Some of these services include:
Electricity consumption monitoring
Electric vehicle charging
Roof replacement & energy-efficient roofing
Tree removal
Ductless mini splits and other HVAC services
Mass Save Energy Audits
Energy-saving lighting
Why Solaris Renewables
Local Experience.
Our day-to-day operations revolve around a shared mission — to power our neighborhoods sustainably. With thousands of solar installations under our belt, we have the experience to get the job done on budget and on time.
Premium Products & Installations.
We perform our own installations and take great pride in the quality of our work. Using only top products and best practices that promote minimalistic design, our projects very apparently outshine the competition.
Superior Warranties.
Your satisfaction is guaranteed. Because of our exclusive partnerships with Maxeon, Solaria, and SolarEdge, we're able to include comprehensive 25-year warranties on all of our solar installations.
Hear From Our Satisfied Customers
"The execution was flawless, communication was great."
"Not only were they the most honest, they also gave me the best offer – lowest cost and highest capacity, with a 90% guarantee on the output, and the best warranty of all offers. The execution was flawless, communication was great."
David M.  |  Somerville, MA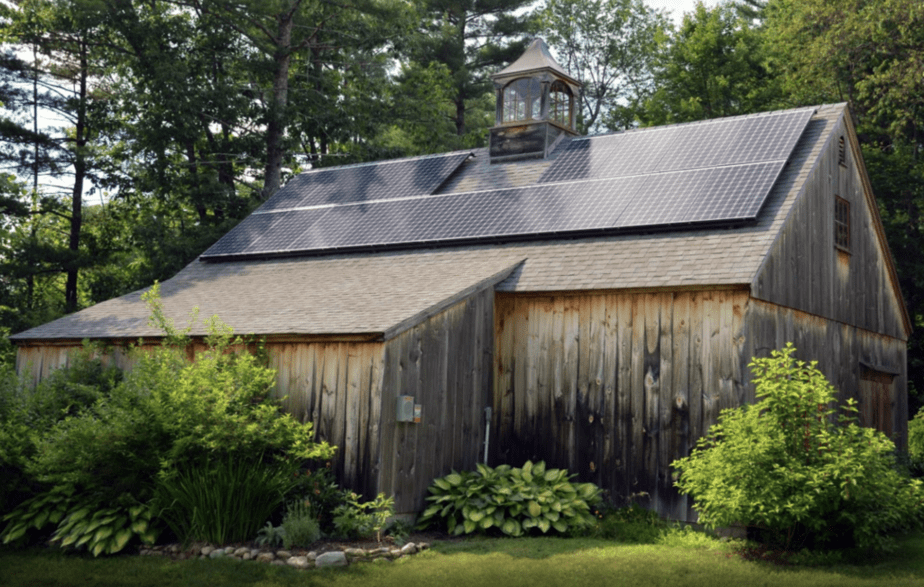 "Solaris Renewables made it personal."
"My experience with Solaris Renewables was and continues to be outstanding! After spending months researching PV technology and weighing bids from 5+ installers, Solaris Renewables was my choice! Anyone can sell you a PV system but Solaris Renewables made it personal. As promised, it was true a design/build partnership from the entire team."
Jay B.  |  Ashby, MA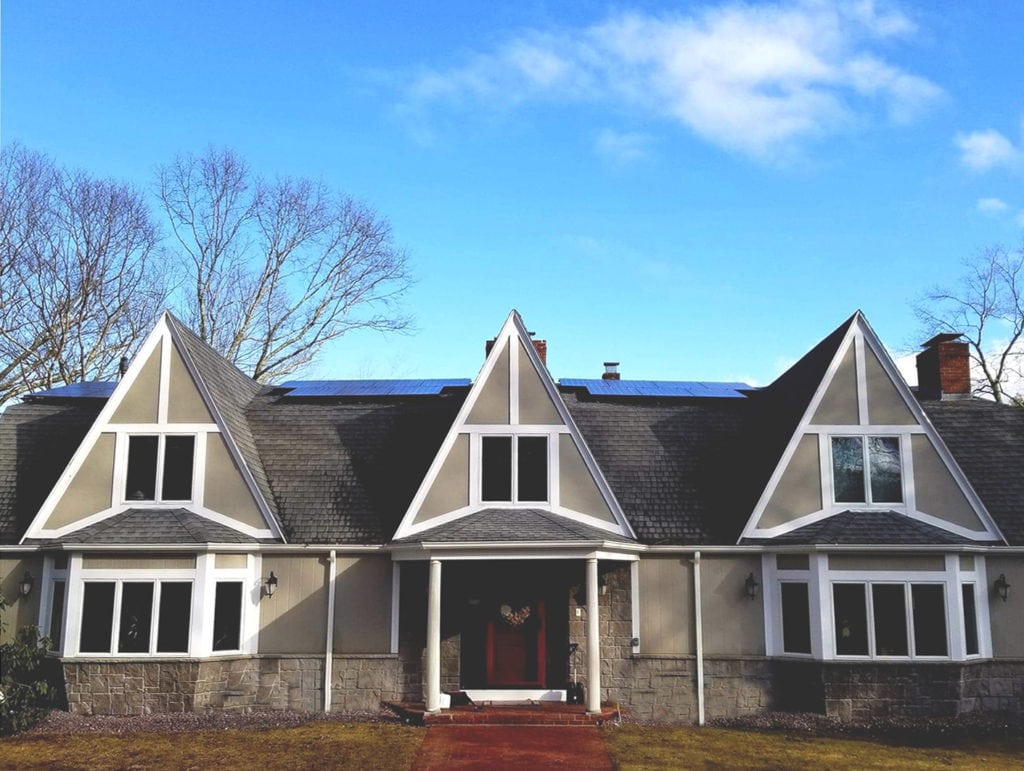 "I now silently make fun of other solar homes with conduit all over the roof."
"They were fairly priced, right in the sweet spot of the middle, but better panels and better reviews than a slightly cheaper company, and not by much. And way more responsive than the other companies. Overall the process was pretty simple. Solaris Renewables does their own work 100%, no sub-contractors. My experience with Solaris Renewables was great right from the site inspection."
Santiago G.  |  Oxford, MA
Explore Our Products
See How Customers Like You Use Solar Products From Solaris Renewables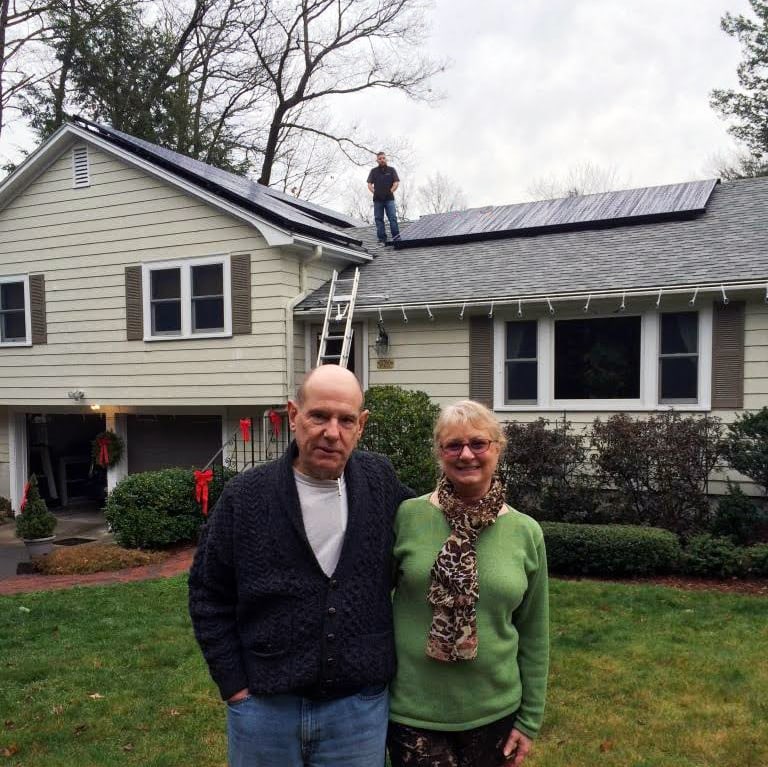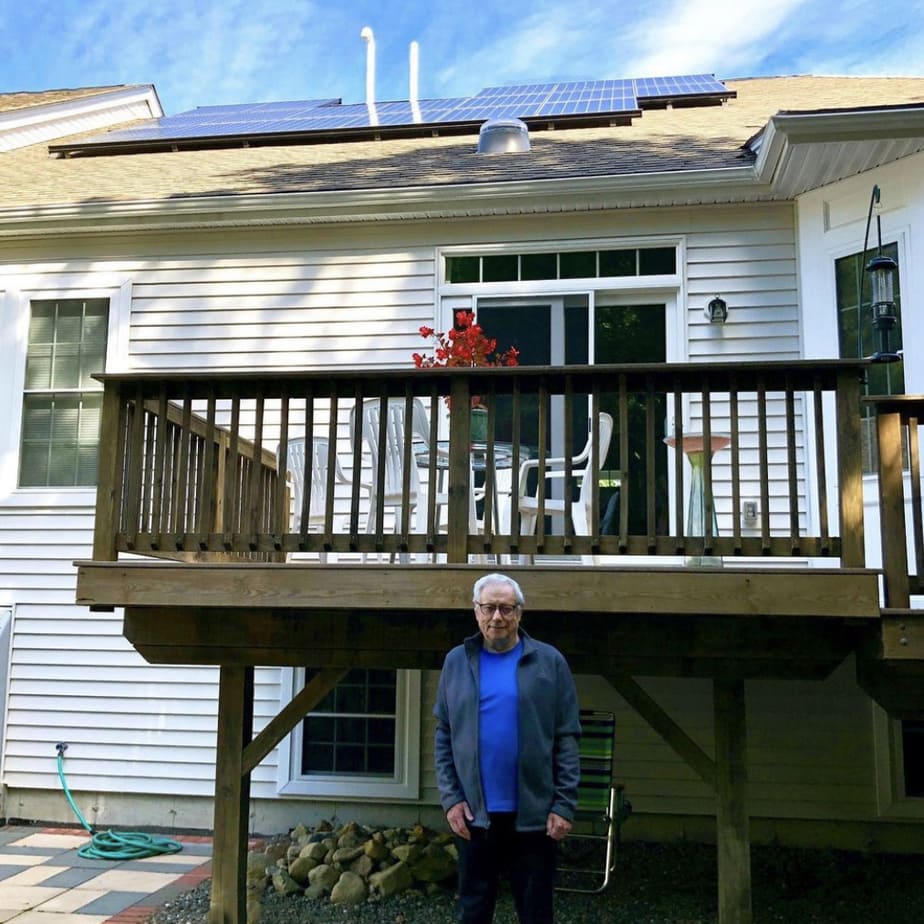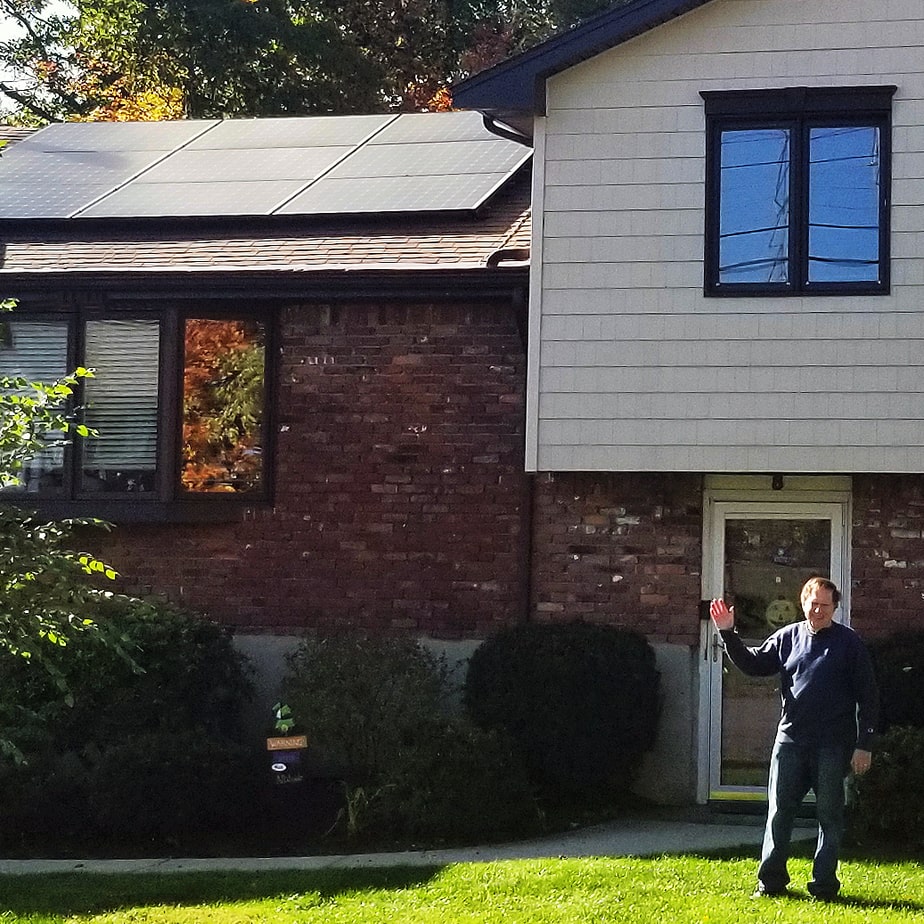 Jan and Claire – Westwood, MA
Anatol – Plymouth, MA
Larry – Burlington, MA
Submit your photo at welcome@solarisrenewables.com to be featured on our website!
Request a Free Consultation
Wondering if solar will work for your home? Set up a no cost, in-home consultation and one of our local experts will answer your questions and explore your options. Or, simply request a free quote if you're ready for solar and wondering how we stack up.