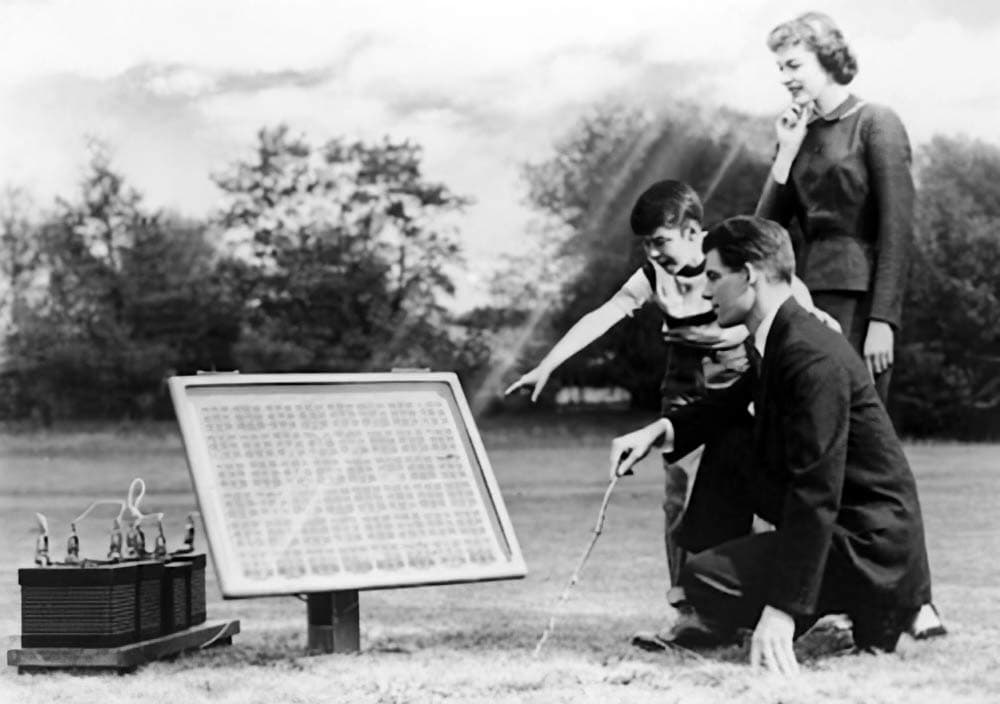 The use of solar energy has been around for thousands of years. However, many people have continued to use fossil fuels throughout history because they did not know much about solar power's potential. But when people discovered that we could rely on sunlight for everyday electricity, it became a game changer. In this blog post, we'll go over the history of solar energy and how the public's opinion of solar has changed over time because of factors like climate change awareness as well as how the Environmental Movement, the Information Age, and government incentives were designed to encourage solar development. 
The History of Solar Energy
Humans first operated solar energy in 600 BC, using glass to concentrate the sun's rays to make fire. In 200 BC, the Greeks and Romans used glass and sunlight to light torches for religious purposes. However, the first modern breakthrough in solar energy occurred in 1839 when French physicist Edmond Becquerel discovered the photovoltaic (PV) effect, a process that creates a voltage or electric current when exposed to light.
The first solar device to produce electricity from sunlight was installed by inventor Charles Fritts in 1883. In 1905, Albert Einstein discovered light particles that could eject electrons at a certain energy level. In 1954, Bell Labs scientists created a modern solar-electric cell while researching the properties of silicon. They discovered that when certain substances were added to silicon, a strong electric current was generated when exposed to light.
At first, solar panels were only used to power remote pieces of electrical equipment. By the end of the 20th century, engineering improvements had made solar cells cheaper and easier to make. Solar panels then began appearing on rooftops and on large solar farms to generate electricity for regular use. 
Today, solar is one of the fastest growing sources of our electricity, as new improvements are making solar cells lighter, cheaper, and more powerful. Because of this, we can use them in more places, such as on homes and buildings, brownfields, in outer space, and even floating on water. 
Public Opinion on Renewable Energy
While there isn't a ton of information regarding public support on solar energy, data shows 94% of people support U.S. participation in efforts to reduce effects of climate change. From that same data, 90% think that renewable energy should have priority over fossil fuels, and 80% expect that a transformation to renewable energy would improve air and water quality. We know that our customers have gone solar for a number of reasons, such as the major incentives offered that help lower the cost of their solar systems. 
The Environmental Movement 
The modern Environmental Movement occurred during the 1970's. With the public's new focus on pollution and other worldwide problems such as environmental threats from the disposal of toxic waste and global warming, Congress was pressured to pass measures to promote cleaner air and water. As environmental action started being taken and the effects of fossil fuels were growing more apparent, people began to consider alternative fuels, which soon sparked an interest in renewable energy. 
From then on, many people became more aware of the environment and invested in improving the earth's well-being. People were shocked by how we can utilize resources for clean energy, rather than constantly causing harm to the planet we call home. People also came to discover that solar panels are not the same as they were in the 1980s, as they have become much more efficient and affordable over time. 
There is a lot of data about the public's opinion and disapproval on fossil fuels over time. Fossil fuels have long been known to produce environmental damage, and over time, people have sought a cleaner solution. Over 30% of Americans believe the U.S. should eliminate fossil fuels completely and only rely on renewable sources such as wind and solar power, while the majority believe renewable energy should be in the mix along with fossil fuels. 
Oil is continuously damaging our planet and harming the environment. The BP oil spill, also known as the Deepwater Horizon oil spill, occurred on April 20, 2010, and remains one of the biggest environmental disasters in world history. Over 206 million gallons of oil was released into the Gulf of Mexico, killing 11 people, and affecting more than 950 miles of shoreline. As the biggest oil spill in the country, this disaster was an eye opener to the harmful effects of fossil fuels.
The Information Age
There was also a turn of events during the Information Age. As technology and the internet grew, information became more accessible to people, which increased consumer education. Awareness on the effects of climate change skyrocketed, and people began to realize that solar energy was a more sustainable option than using fossil fuels. 
Green ideas became popular in the 1960s and 1970s, around the time of the modern green movement. Concerns spiked about air and water pollution, as well as ideas about protecting the earth, which eventually led to the environmental movement. As digital information became more accessible to us during the Information Age, green technology started really trending in the 90s. The number of new green products increased massively, representing over 10% of all new household products. 
The Rise of Electric Bills
If you go solar, you are going to pay off your solar system in typically under 10 years because of the return on investment, whereas if you stick with fossil fuels (not solar panels), you will never pay off your electric bill. In spite of this, the public has begun to realize that investing money in clean energy that will eventually be paid off, definitely outweighs paying monthly electric bills that will only continue to increase.  
How Solar Panel Cost Has Changed Over Time
Over time, solar energy has become much more accessible than it used to be. There is an understanding that it was once very expensive to have a solar system installed on your home, especially when they were first invented and electricity bills were nowhere near as high as they are today. Today, solar technology is mainstream and not as expensive and novel as it used to be. Pair that with the high electric rates in states like Massachusetts and solar becomes more attainable and realistic. When you also take government incentives (like the federal tax credit, state tax credits, net metering, and more) into consideration, solar becomes a no-brainer. Because of lucrative incentives and high electric bills, going solar is becoming more and more mainstream. 
Today there are numerous financial incentives to go solar. Back in the 80s and 90s, when solar panels became more commercialized, there were no solar incentives. The Energy Policy Act of 2005 was the first solar incentive, which created the principal 30% tax credit for investments in solar energy property. The federal government then started incentivizing solar adoption, and has continued to expand every year. With that being said, incentives have a lot to do with the public's opinion on solar energy. Because there are more solar incentives offered today than there were 10, 20, 40 years ago, solar power is more affordable and accessible, resulting in its growing popularity. 
Solar Becomes Popular
Solar energy became rapidly available to citizens in the 1980s. Federal acts began providing incentives and tax credits for installing renewable energy in homes. In 1983, solar cell sales exceeded $250,000,000. Since then, the quantity and pervasiveness of solar energy technology has continued to grow. Today, there are over 3 million solar installations throughout the United States. In 2022, solar panel shipments set a record high, with a 10% increase from 2021.
Lasting Impressions About Solar
The drastic change in solar panels, as well as the public opinion of renewable energy over time has allowed more people to jump on board and transfer from fossil fuels to solar power. Understandably, people were skeptical about solar energy when it was first discovered. Plus, electricity bills back then were not nearly as high as they are today. However, now they increase about 4-5% every year and include hidden costs. What is shifting people now is the realization that the cost of going solar, which can be paid off, is worth never having to pay another electrical bill.