Solar power technology is advancing every day. All over the world people are using renewable energy from the sun – from vertical solar on the sides of buildings, to panels floating on top of water. Engineers and even artists have created aesthetically pleasing and highly efficient ways to collect an abundance of solar energy. Here are some of our favorite creative applications of generating solar power.
1.  Solar Art
For many years, solar panels came in one rectangular shape. Artists and engineers teamed together to create some innovative solar-powered sculptures that can be found around the world. Countries like Denmark, China, and the United States are showing their appreciation for solar energy with art.
The Solar Flower
SmartFlower has created a giant, high-tech flower that produces tons of power. Like solar trackers, the Solar Flower rests on a base that enables it to maximize solar production by turning its petals (made from solar panels) toward the sun. The petals also open and close according to the amount of sunlight that is available. The Solar Flower recently installed at the Benjamin Franklin Institute of Technology in Boston, is attracting students and gaining momentum for renewables and climate action among youth.
Little Sun
Olafur Eliasson, a popular sculptor in Germany, is providing children around the world with free light. Little Sun is a small, lightweight, and wearable solar-powered lamp that's designed to be an appealing but functional necklace. Eliasson calls it, "a work of art that works in life." Its purpose is to help people who have little access to electricity since electricity is often scarce in developing countries. Some people in developing nations have access to kerosene lamps for lighting, but burning kerosene fuel emits toxins that can be damaging to human health. Little Sun provides people with a beautiful, healthy, and free way to access light.
Sonic Bloom
Created by American artist Dan Corson, Sonic Bloom is a playful and interesting solar display located outside of the Pacific Science Center in Seattle, WA. Seattle City Light's Green Up Program sponsors projects like Sonic Bloom in hope that it will promote interest in clean energy by catching public attention. Beyond their beautiful sculptural nature, the flowers are capable of creating light shows with music. Corson also strategically tilted the flowers at different angles and directions, so viewers visiting the Pacific Science Center can study the flowers' performance due to their orientation to the sun.
2.  Sports Teams Going Solar
New England sports teams have a reputation for being a positive force in their communities through fundraising, hospital visits, reading incentives, and other acts of charity. New England's teams have also joined forces to utilize solar power in their sustainability initiative. Fenway Park, Gillette Stadium, and TD Garden in Boston are some of the first local sports stadiums or facilities to install solar technology.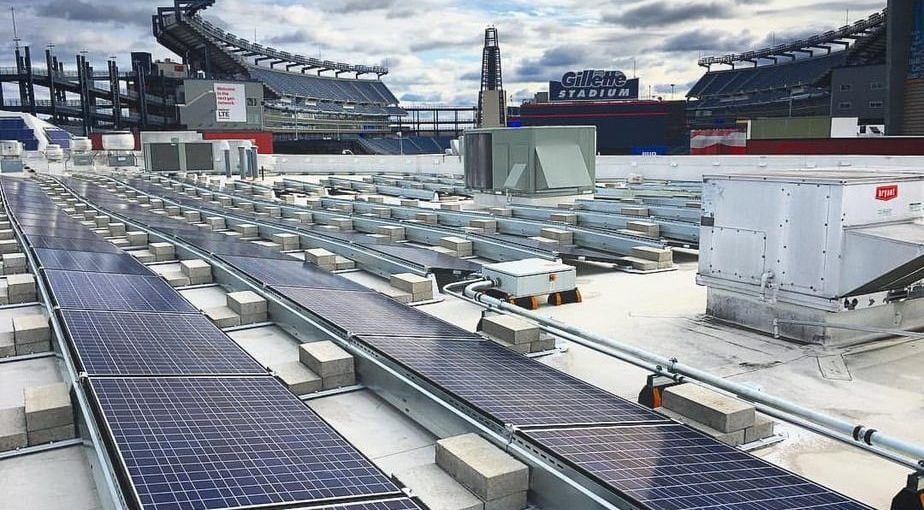 NASCAR is also getting involved in the solar revolution. Because the sport involves heavy use of fuels, people don't typically consider NASCAR as environmentally friendly. However, NASCAR built a huge multi-megawatt solar farm right outside Pocono Raceway and other famous tracks and found ways to recycle used and damaged materials from their cars.
3.  Houses of Worship Honor the Environment With Solar
It's a great idea for nonprofits to go solar. Churches across Massachusetts are now joining the solar panel movement. As of 2019, more than sixty churches across Massachusetts use energy from solar panels. Not only do houses of worship help the planet and community by generating clean energy, but they save money that can be put to better causes. Houses of worship can use the savings from solar to help those who need help in their community.
The Congregational Church of Topsfield, seen below, had its solar panels installed by Solaris Renewables through a solar panel giveaway initiative in 2018. The Church's Senior Minister, Martin Riekert, stated his motivation for entering our giveaway by stating "We have to do our bit to try and mitigate the climate disaster effects while we still have time."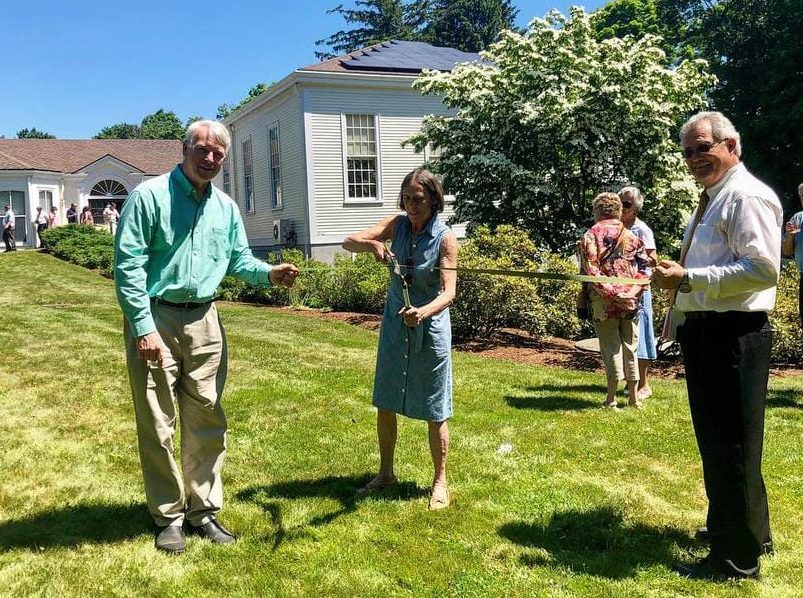 4.  Floating Solar Panels
Solar farms require a large cleared field to efficiently fit and position many solar panels. With floating solar farms, valuable land is not required. Since 2010, businesses all around the world have been using large bodies of water to accommodate solar farms.
Floating solar has several benefits. The shade lowers water temperature and evaporation which supports healthy ecosystems in the midst of overall planet warming, and provides thousands of jobs. The world's largest floating solar farm sits on top of what was once an enormous coal mine. Coal mining, a dirty and dangerous business, was once a booming industry. These vacant coal mining sites have since filled with water providing a perfect home for cleaner and safer power-generation sites.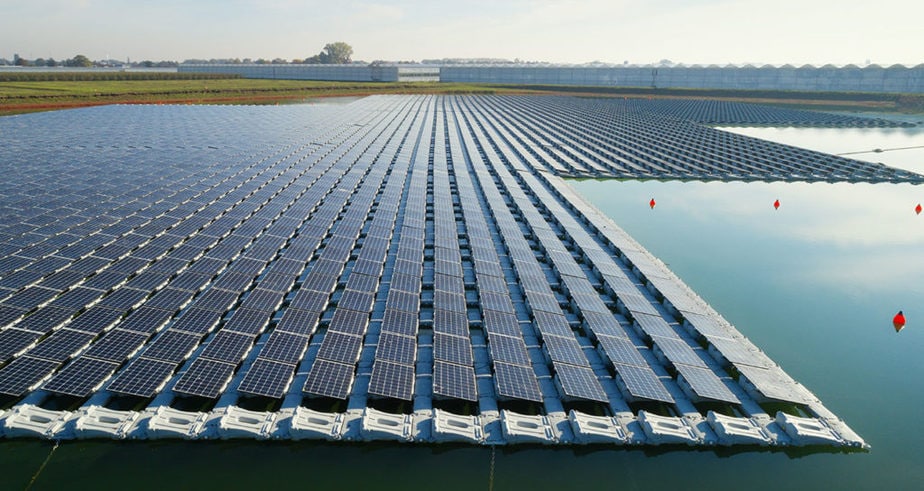 5.  Solar-powered Charging Stations for Public Use
In 2016, Massachusetts Governor Charlie Baker unveiled a plan to create 13 solar-powered mobile device charging stations across the state. These stations would be placed in popular public facilities such as the Rose Kennedy Greenway in Boston, MA. With endless busy schedules, the charging stations let the public relax with a cup of coffee, and recharge their cell phones at no cost. One example of this is the Soofa, which was developed at MIT. The charging stations are free for the public to promote interest in solar on a grander level.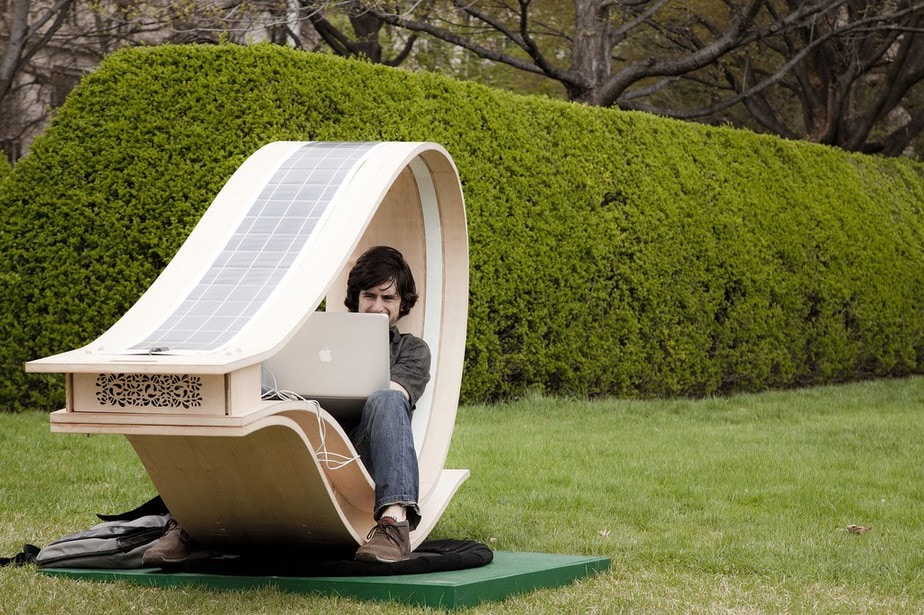 6. Solar Thermal
Solar developers created a giant solar oven by using a field of reflective mirrors, otherwise called concentrated solar or solar mirroring. Concentrated solar traps heat by using mirrors to reflect sunlight and send the sun's rays to the receiver, which is stored and used to produce electricity. Concentrated Solar Thermal systems (CSP), are not the same as regular solar panels; CSP systems concentrate the sun's radiation to heat a liquid substance which is used to drive a heat engine and an electric generator. These temperatures generated are often above 1,000 degrees celsius, close to a quarter of the sun's surface temperature.
Cement, steel, and other industrial companies need tremendous amounts of heat to produce materials. For hundreds of years, these industries have utilized limited harmful energy sources such as fossil fuels. However, by using Concentrated Solar Thermal Systems, we can lessen our dependence on fossil fuel crisis on the mega-corporate level.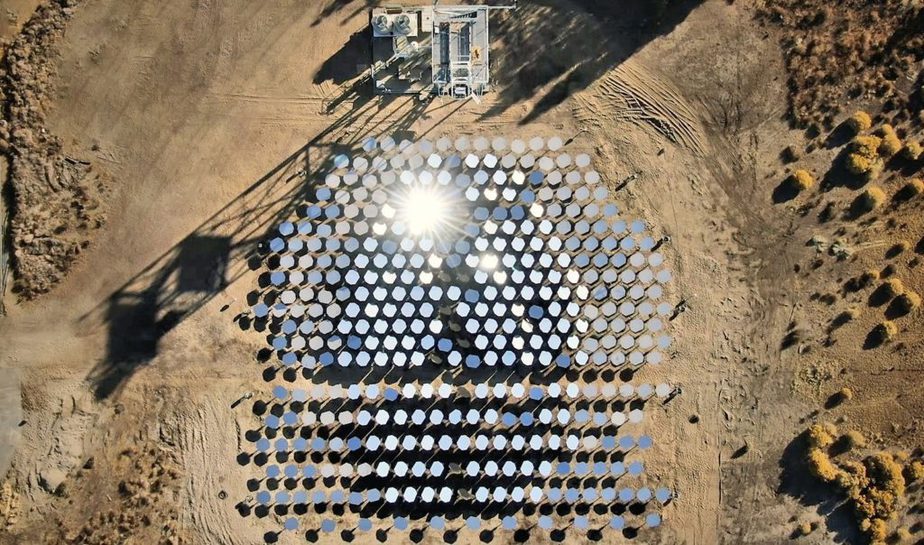 7.  Passive Solar
Passive solar is another source of heat collection on a smaller homeowner level. South-facing windows allow tremendous amounts of natural light in and provide homeowners with a means to collect and store this free light energy coming through their windows using Thermal Mass. Materials like Thermal Mass have the ability to absorb, store, and re-release heat. As Thermal Mass materials heat up during the day, they slowly release heat distributing it into the air with applications such as fans and ducts to keep your home or business consistently warm.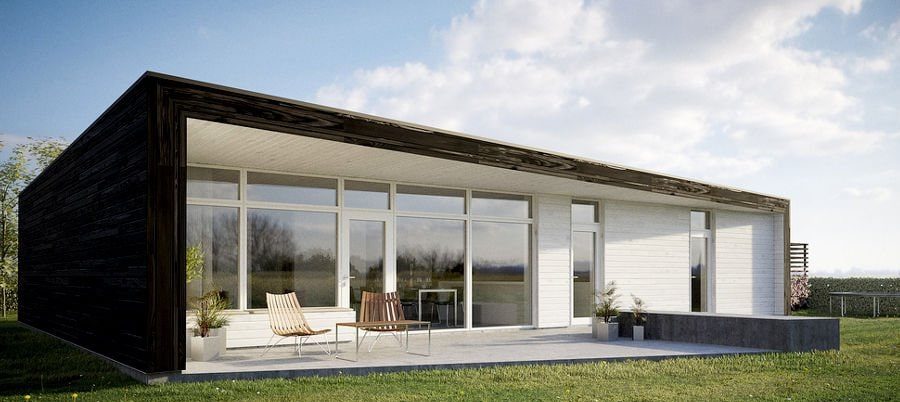 8.  Vertical Solar
A group at MIT believes that the best way to catch sun rays is vertically. The group designed a prototype that uses conventional photovoltaic (PV) panel technology that can generate 20 times more energy than traditional solar panels. Vertically installed panels allow solar power to be generated during sunrise and sunset plus the standard daytime hours in between. Thus, vertical solar generates tons of power and is also a new idea for large-scale business operations. Pictured below is the largest vertical solar array in the US with more than 350 panels at San Diego City College. Willis Tower in Chicago, is planning to replace many windows with vertical solar panels.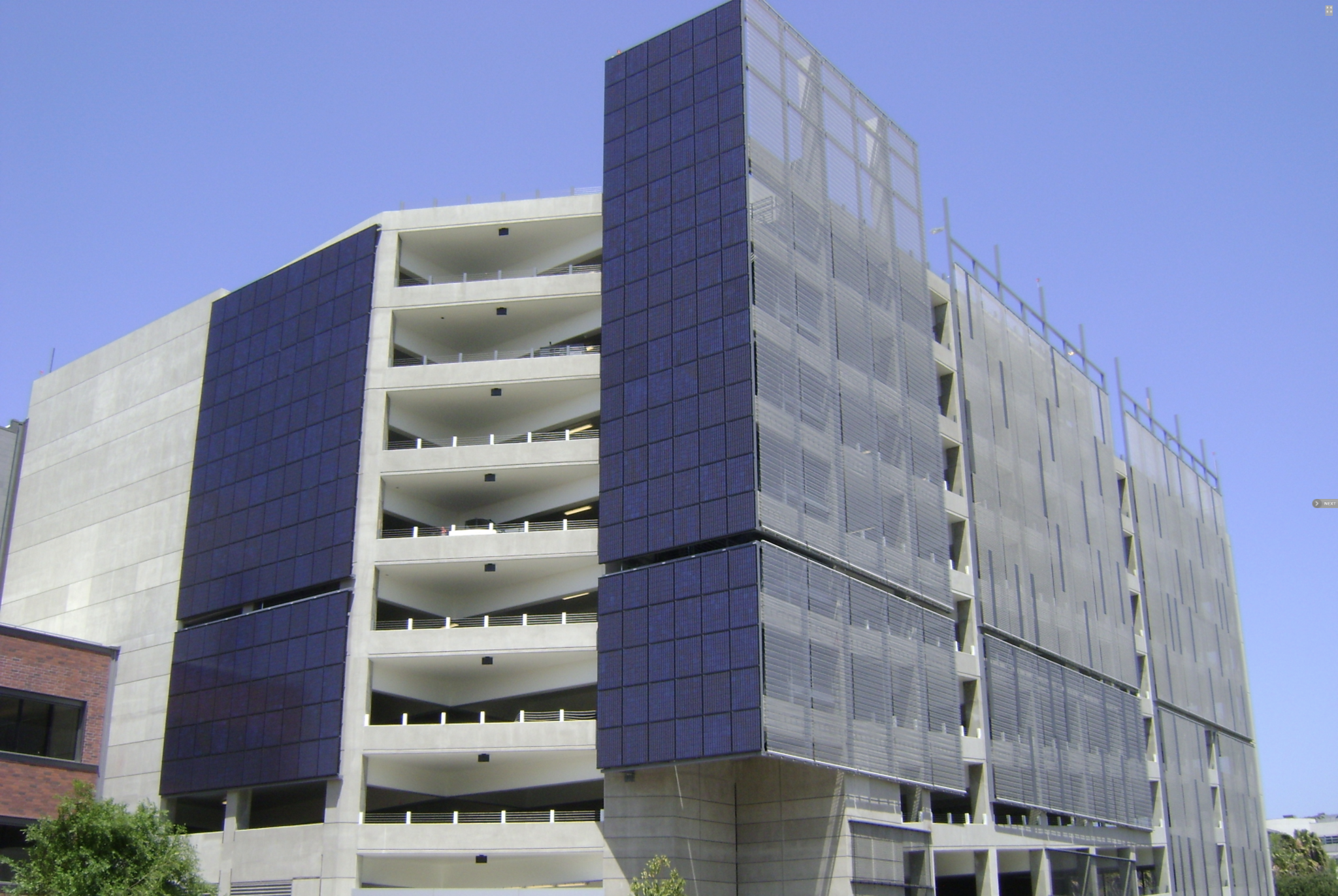 Continuous Innovative Solar Choices
At the end of the day, solar power is an essential energy source that makes all life on Earth possible. Each generation of engineers revolutionizes how solar energy is harnessed, distributed, and appears to the public. Through creativity, solar panels are becoming more versatile, efficient, and aesthetically pleasing. Check out our list of Solar Facts for more interesting solar tidbits.
Get Creative With Your Energy
Talk to our team to learn the latest and greatest in solar technology.