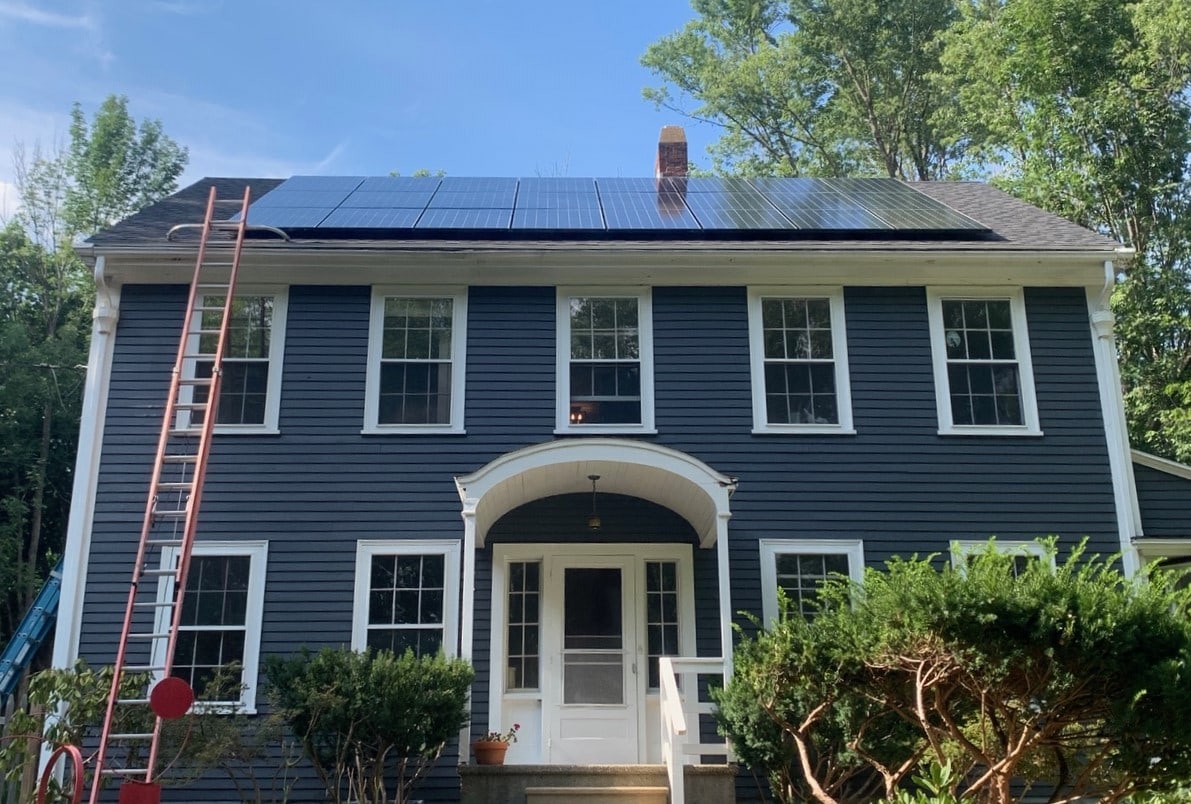 Most people are aware that installing solar panels can lead to lifelong savings, but the perks of solar don't stop with just money. Without solar panels, we get our electricity from the electrical grid, which has proven itself to be unstable, constantly facing outages that can leave households without power for long periods of time. Solar systems paired with battery storage can prevent you from facing power outages by providing you with energy independence, allowing you to generate your own energy and keep your home powered without relying on the grid.
What is Energy Independence?
Energy independence is the ability to produce electricity, or energy, for your household by yourself (without the electric grid). Energy independent households do not need to rely on a utility company to receive electricity. These households do not need to be completely off-grid, but to be energy independent, the majority of your electricity needs to be supplied directly from your house. One of the best ways to achieve energy independence is through using solar power.
How to Become Energy Independent With a Solar System
There is a good chance that even when you have a solar system installed on your home, your home will still be connected to the grid. Your solar system will likely produce enough electricity so you don't need to use the grid's energy. However, in the event of blackouts from a storm or another reason, your grid-tied solar system will automatically shut off. It is important to note that if you do want to keep your house powered during a blackout, you need battery storage alongside your solar system.
Another important step in ensuring energy independence with solar is to electrify everything in your household. Solar systems can only produce electricity. This means if you're using a gas stove, gas heat, or other resources in your household, your solar system will not be able to run it. To achieve energy independence, focus on replacing any appliances that don't use electricity with their electronic counterparts. For instance, replace gas heat with ductless mini splits. 
What Are the Benefits of Energy Independence?
Producing and storing your own energy comes with a myriad of benefits, many of which outweigh the upfront cost of installing a solar and battery system.
Keeping Your Home Powered Through Blackouts
One of the most significant benefits of energy independence is ensuring that your household can have electricity, even when the grid can't provide it. Storms and other extreme weather events can damage parts of the grid and/or create substantial power outages. If you have a combination of solar and battery storage, then these outages won't be a problem for you, as you'll be able to back up all of your circuits or your most critical ones.
During blackouts, repair crews are out working on the grid to bring it back up and running, so your solar system will automatically shut off if the grid goes down. If your solar system is left running, it can send surges of electricity through the grid and injure the repair crews attempting to inspect and fix it. When your solar system is shut off, it won't be producing energy for your household. To solve this and ensure that you still have electricity to use during blackouts, you can rely on your battery storage system. Batteries are able to keep the most important appliances, such as refrigerators and freezers, running even when your solar system is shut off.
Adding storage to your solar is like adding an extra layer between your home and the grid, resulting in having your own microgrid. This means you will be often living off of your own power and won't need to rely on the grid. With a battery system, you can store your solar energy in the battery and therefore use it when the grid shuts down or during power outages. Other benefits besides self sufficiency include increased energy security, better tracking of energy generation, reduced utility bills, reducing your carbon footprint, and reducing demand charges.
Added Resiliency
There are two primary reasons that solar energy is more resilient than the traditional power grid. The first and primary reason is that solar energy is localized. When you have a solar system connected to your home, energy is transferred directly from your rooftop or battery storage into your appliances. On the other hand, the grid is centralized and distributes energy through many series of power lines. Because grid energy needs to travel far and through many channels, there are more opportunities for damage and overall inefficiencies to prevent you from getting the power you need. These inefficiencies also lead to higher costs for grid power.
The second reason that solar power is more resilient is because of how easily it can be stored. Your solar system can store energy in your battery constantly, so it is nearly always at full charge and ready to supply power when you need it. Whereas generators rely on fuel deliveries, which take much more time, money, and effort.
Financial Benefits
The price of electricity from the grid is substantial, and these prices only seem to be on the rise. In 2022, the average resident paid 14.3% more for electricity than in 2021, and these increases don't seem to be stopping any time soon. Any time you use energy from the grid, you are billed for that energy, whereas when you generate your own energy through solar panels, the majority of these costs go away. Not only that, but if your solar panels are producing more energy than you need, you can participate in net metering, which is the process of selling excess energy back to the grid to receive credits on future electric bills. These credits can then be used to lower your electric bills when you do use more grid electricity to power your home, such as  during the winter months when your panels will be producing less energy.
Lowering Strain on the Grid
Installing solar panels benefits more than just your own household. By producing your own energy, you become one less home that the grid needs to supply substantial energy to. Part of the grid's instability comes from the fact that it needs to power so many households, buildings, and other structures, which raises the probability of something going wrong. 
Installing solar and storage to become energy independent lessens the strain on the grid, allowing your utility company to direct the electricity you would have used to other households. This helps the grid become more stable and ensure that the people who need it to power their home can rely on it. Therefore, not only is achieving energy independence beneficial for your family, it can help you give back to your community as well by helping the grid become more stable for other people and entities.
Reducing Your Carbon Footprint
Most electricity from the grid is generated through the burning of fossil fuels. The process of extracting and converting fossil fuels into electricity is damaging to our planet because it produces excess greenhouse gasses that contribute to our changing climate. Relying on energy from the grid causes your personal carbon footprint to rise.
Solar panels have a significantly lower carbon footprint than fossil fuels. Therefore, relying on solar for your energy is one of the best ways you can reduce your personal carbon footprint. Your solar system will not produce any greenhouse gasses while it's running, so you can be confident that not only are you reaping the benefits of being energy independent, but you're also lowering your carbon footprint by utilizing one of the cleanest energy sources.
How Does Energy Independence Differ From Off-Grid Living?
When we talk about energy independence, people often assume that becoming energy independent means living off the grid. This isn't entirely true – in fact, we suggest that you should stay connected to the grid, even if you can supply all your electrical needs yourself.
Living off-grid means that you have no connection to the electrical grid at all, which means no electricity bills or statements. This can be freeing for some people, but off-grid living often comes with more drawbacks than it's worth.
To start, living off-grid means you cannot participate in net metering and other solar incentives. Without such solar incentives, your solar system investment is not as robust. Not only that, but when you sever your connection to the grid, you have no way of getting any electricity if your solar system can't cover all your electrical needs. For example, during the winter you will need to use some grid power when your panels may not receive as much direct sunlight.
Being energy independent means you don't have to rely on the grid, but it doesn't mean you have to live disconnected from it. You can maintain your connection with the grid without relying on its energy. This is the best solution to generating your own green energy, giving back to your community, and gaining all of the benefits from your solar system investment.
Go Solar to Achieve Energy Independence
Ultimately, the best way to achieve energy independence is to install a solar system and battery storage at your home. With solar and storage, you can rest assured that your home will stay powered, even during harsh weather conditions, all while helping our grid become more stable and reducing your personal carbon footprint.