From the Federal Solar Tax Credit to Massachusetts' SMART Program, the government offers a wide range of financial incentives to support the shift to clean energy. But the government isn't the only organization prompting you to transition to renewables. Utility companies also offer a generous program that helps you make the switch to solar—net metering. Here's an overview of what net metering is, who can do it, and what the benefits are, so you can see how you can take advantage of it.
What Is Net Metering?
Net metering is a billing mechanism that allows you to sell your surplus electricity to utility companies. When your solar panels generate more energy than you need, you send the extra electricity to the grid and earn credits that you can use toward later bills. You'll typically overproduce electricity from April to September because the sunlight is most direct, so, in the winter months, when you generate less electricity, you can use the credits stored in your account to pay your bills. This is one of the key reasons Massachusetts is the best state for solar power, and residents get a quick return on investment from their systems.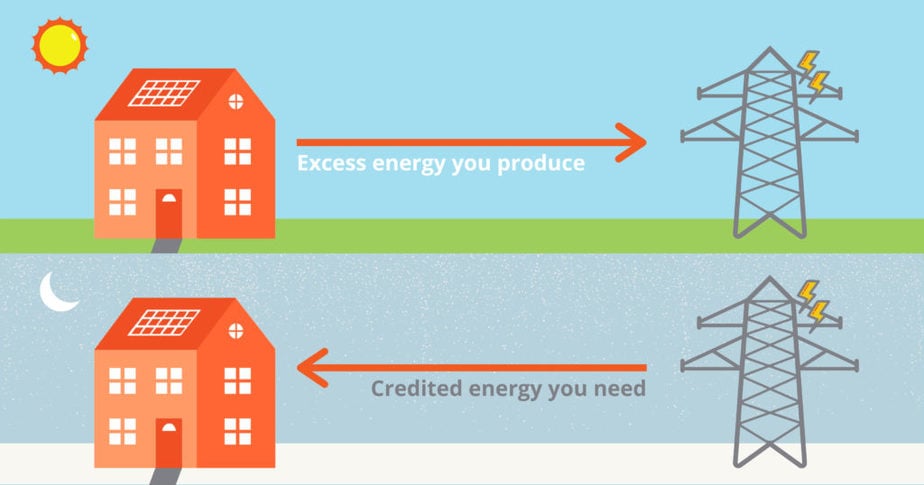 Net metering rules vary from town to town. However, since Massachusetts is a solar-savvy state, the majority of the towns that offer net metering use a near 1:1 ratio. This means that the credit you receive only differs from the retail rate by fractions of a cent. For instance, if the energy you purchase from the grid costs 23 cents per watt, you'll earn credits close to 23 cents per watt when you net meter.
Who Can Net Meter?
Massachusetts solar owners connected to the grid in Eversource, National Grid, or Unitil territory are able to net meter when they generate excess electricity.  Major utility companies in Massachusetts participate in net metering programs because it helps them achieve their mandated clean energy goals without investing in the infrastructure. In these areas, some solar installers even encourage you to oversize your system, so you can net meter more energy and earn additional credits for your bills. 
Some towns with municipal light plants (towns not in major utility zones) can also net meter, but it may be at a reduced rate instead of a 1:1 ratio. There are some communities that don't allow net metering, but solar can still be a lucrative investment in these areas and cover your electric bills for the majority of the year. That being said, you do not need to oversize your system if you live in these territories; you just need to build a system large enough to cover your electricity usage.
What Are the Benefits of Net Metering?
Net metering is a unique solar incentive because solar owners aren't the only ones who gain from it. On top of saving you tons of money, net metering slightly lowers your neighbors' electric bills and adds resilience to your community by supporting the electric grid.  
Slash Your Electric Bill

The most obvious benefit of net metering is that it helps you get the most out of your solar system. High-efficiency solar panels typically cover the bulk of your electric bill, but net metering ensures that your bill will be as low as possible even when energy production is low. People typically overproduce in the summer months, so this leaves plenty of leeway in the winter. With one less bill to worry about, you'll have extra peace of mind and money in your pocket.
Help Your Neighbors
When you produce your own clean electricity and share it with the grid, it decreases the need for utilities to create and transport dirty energy. That power gets distributed to other homes or businesses in your load zone (whether they have solar or not). This not only helps the environment but also lets your neighbors save money. Most electricity travels long distances in order to reach the ratepayer. This is problematic because a substantial amount of energy is wasted during this process; it's estimated that 5% of the electricity that is transmitted and distributed in the United States is lost every year. Producing electricity locally helps limit this, and it lowers transmission expenses and spending on infrastructure. Thus, when you net meter, all ratepayers save on unnecessary costs.
Strengthen The Electric Grid
Net metering also enables you to reduce the burden on our electric grid. Currently, our grid infrastructure is struggling to keep pace with our growing population and increasing energy consumption. As a result, our grid is congested, and we're experiencing more power outages than ever. In the United States, the average person loses power for about 3.5 hours each year. Net metering helps combat this because energy does not have to travel as far from the source, so the grid doesn't have to do as much work. Electricity loads are more manageable with less demand, so the grid becomes less strained.
Solar Power and Net Metering
Net metering is just one piece of the puzzle when it comes to solar savings, but it has a huge impact. It can help you eliminate utility bills and see a quicker return on investment. Plus, it benefits local communities and our electricity infrastructure at large. If you're installing solar panels on your home or business, it's important to see how you can make use of net metering.
Get Started With Net Metering
Talk to our team to see how net metering and other solar incentives save you money on electricity bills. We'll go over all the programs that your town offers, so you can make sure solar's right for you.