08-08-2017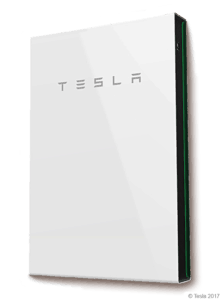 For the past half a decade, Solaris Renewables has been installing our Solar PV systems with the future in mind. The future has arrived with the Tesla Powerwall 2 and we are REALLY excited about offering this to our customers!
Home Benefits
Tesla's Powerwall 2 has a few key benefits, which makes it a great addition to a Solar installation. One benefit is the ability to run your entire house on the battery similar to a generator. Not only will the Tesla Powerwall notify you of the outage, but it will also automatically transfer your home from grid supply to battery supplied power. Your PV system will power your home while it's sunny and the battery will power your home when it's not.
Another major application for Tesla Powerwall 2 is for customers who live in towns with municipally operated utilities with unfavorable net metering policies. Powerwall will allow these customers to store energy produced during the day and use that energy at night. As a result, solar can now be cost-effective for customers who historically have not been able to take advantage of the net metering programs.
Incentives
While there are several practical applications for the Tesla Powerwall 2, there is a major financial advantage as well. Solar PV with the Tesla Powerwall is eligible for the same federal solar tax credit Solaris Renewables solar customers love! Many customers have found battery storage to be a more reliable and less costly option compared to conventional generators.
Interested in learning more about how you can benefit from the Powerwall 2? Please contact Solaris Renewables for a free in-home energy consultation.