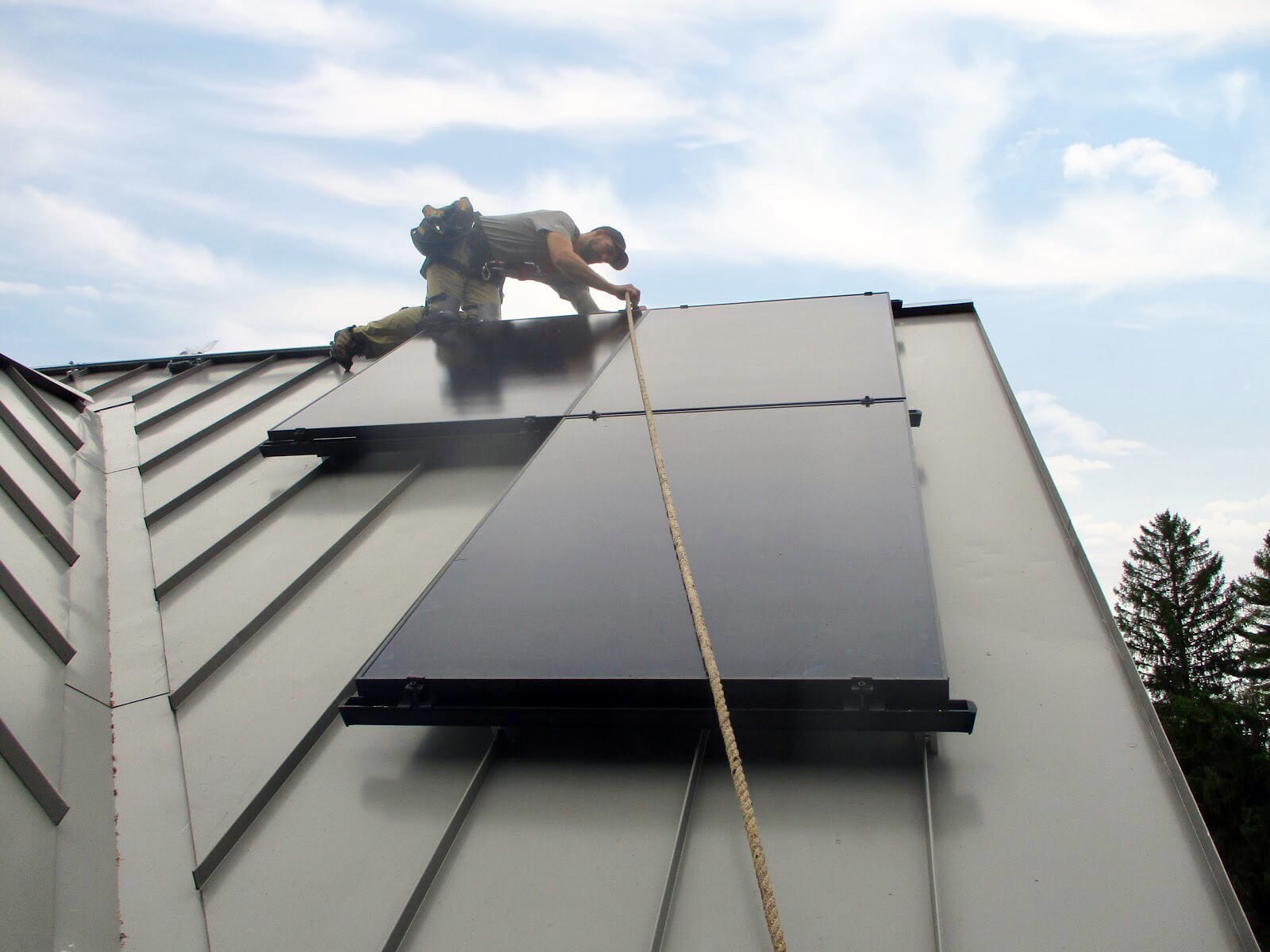 When you decide to go solar, you're making a great choice! We know that the solar process can seem overwhelming at first, so we're here to break down what to expect during your solar panel installation. Let's get started!
Preparing for a Solar Panel Installation
The solar panel installation process all starts when you contact us. Upon giving us a call, you'll be connected directly with a Solaris staff member who will be more than happy to walk you through the solar process. 
Solar Consultation
If solar seems like a good fit after looking at your home via satellite imagery, one of our project developers will meet with you to do a virtual assessment. We'll give you an overview on how solar works, the details of your preliminary solar design, financing options, and an overview of the incentives available.
A solar panel consultation can take up to one hour. There are several questions we will ask you, such as your roof's material and age, your current energy needs/bills, your specific needs/wants, and the degree of sun exposure on your roof. The solar installer will also assess the roof's true condition; they will evaluate structure, material, angle, and orientation, identify the best placement options for solar panels, determine if your home is right for solar, and help you decide which financing option works best for you. 
Solar Design
Prior to your installation, our team will work with you to design a custom solar system for your home. We'll take into account what direction your roof is facing, the sources of shade that may be hitting your home, how your panels can get the most direct sunlight, any aesthetic requirements you may have, and more factors. One of our project developers will work closely with you to design a solar system that will provide you with the most electricity possible while keeping your home looking just how you want it.
Because we want to ensure your solar system is designed optimalyl, the design process may take up to a few weeks. During this part of the process, we send our drone expert to take drone footage and measurements of the roof in order to estimate the system size and determine how many solar panels are needed. This helps us prepare the layout of the system, select the best-suited solar panels, plan the routes for the cables, and conduct a site survey to see what (if any) electrical upgrades need to be done and how the solar installation itself should be conducted.
While in this phase, we may suggest cutting down some of the trees in your lawn to prevent shade from obstructing your solar system. There are some panels that can handle shade better than others, like Solaria panels, but generally it is better for your solar panels to be as unobstructed as possible to ensure they can harness the most direct sunlight. The engineer will go over your selected products and how they will work electrically with your home to ensure that the products you chose during the sales process will work best for your household.
Solar Financing
Solar financing makes it easy to own your solar system. There are different options you have when you choose to have solar installed, such as buying it up front, leasing it, or purchasing it over through payment plans via lenders like Sungage. Many people are not aware of the benefits of solar financing, and are drawn away from solar installation because of a misconceived idea of the price. However, many people don't realize the amount of money you begin to save as soon as you get your solar system installed, regardless of the financing option you choose. Solaris Renewables only offers solar purchasing via buying it outright or through loans.
Financing your solar system allows you to pay off your solar loan rather than worrying about an electric bill. Your money each month goes to paying your solar loan rather than the utility company. Some people choose to lease their solar systems instead, but when you do this you cannot participate in net metering or get any incentives because, when you lease a system, you do not own it. Solaris Renewables does not offer lease options at this time. 
Solar Permitting
The next part of the process is permitting. The installer will need to install the panels to meet local building, fire, and electrical codes as well as performing a thorough inspection from a certified electrician. This can take multiple weeks as it requires your team to collaborate with municipal zoning boards, arrange electrical inspections, and get your documentation in order. During this phase, our team takes care of the heavy lifting for you. We will stay in constant contact to keep you updated on your permitting process, but we handle all of the meetings, inspections, and most of the documentation for you.
Once your design is approved and your permits are in order, you can move on to the actual installation process.
The Solar Panel Installation Process
The active installation process is quick and often takes 1-3 days. Our team will arrive at your home with our equipment and get to work. All you need to do during installation is sit back and relax! 
While your solar panels are being installed, the power to your home will likely need to be shut off. This is a temporary measure to ensure that our team is protected when they start to work on the wiring for your solar system. It is also important to expect some noise during a solar panel installation. Our team will do their best to work during hours that won't disrupt you or your family. In addition to the noise, our team will have a considerable amount of equipment, so expect us to take up a bit of space in your yard. We will ensure that all of our equipment is properly removed when your installation is finished. Our install crews are known for being polite, courteous, and professional.
For the most part, our team will be outside and on your roof for installation, but sometimes the panel wiring needs to cut through the inside of your home to ensure that your panels and their wiring can be as efficient as possible.
After The Solar Panel Installation
After your panels are installed, there are a few last steps that need to be taken. First, your city or town will come to do a final inspection on your solar system. Once you pass your inspection, you're ready to get Permission-to-Operate (PTO) from your utility company. We handle that process with the city and utility company for you.
Go Solar Today
Ultimately, solar panel installation is a straightforward process. Our team will be there with you every step of the way. From designing your solar system to fit your needs, to filling out paperwork, to meeting directly with your utility company, Solaris Renewables is here to help make your solar journey as easy and as seamless as possible.
Go Solar With Solaris Renewables
Fill out the form below to learn about the options for adding solar panels and other clean tech to your Massachusetts or New Hampshire home.