03-29-2018
Resilient Communities
Powerwall is available to anyone, with or without solar energy. Tesla describes Powerwall as a "rechargeable home battery system that stores energy from solar or from the grid and makes it available on demand." The prospect of generating and storing your own energy is incredibly appealing– especially when you consider the power outages that come with Nor'easters, hurricanes, and other bad weather conditions. In March 2018 alone, Massachusetts has been hit by 4 Nor'easters. The first Nor'easter led to 450,000 power outages, the second 360,000 power outages, and the third resulted in over 200,000. Energy storage can keep your house–and your life–running normally when the grid shuts down.
When you think of Powerwall, think of resilience. Powerwall gives you the ability to withstand extreme weather events and the independence to power your own home. Tesla was awarded $1.25 million to install battery storage in 500 homes in Nantucket. As an island, Nantucket is especially vulnerable to hurricanes, and Powerwall can play a large part in making homes–and the people who live in them–better equipped to weather these storms. Powerwalls were used in Puerto Rico to help restore power after Hurricane Irma; Tesla sent hundreds of Powerwalls to be paired with solar systems on the island. When Irma swept through Florida, Powerwall kept homes running. After the electric grid failed, solar energy and Powerwall stepped up to the plate.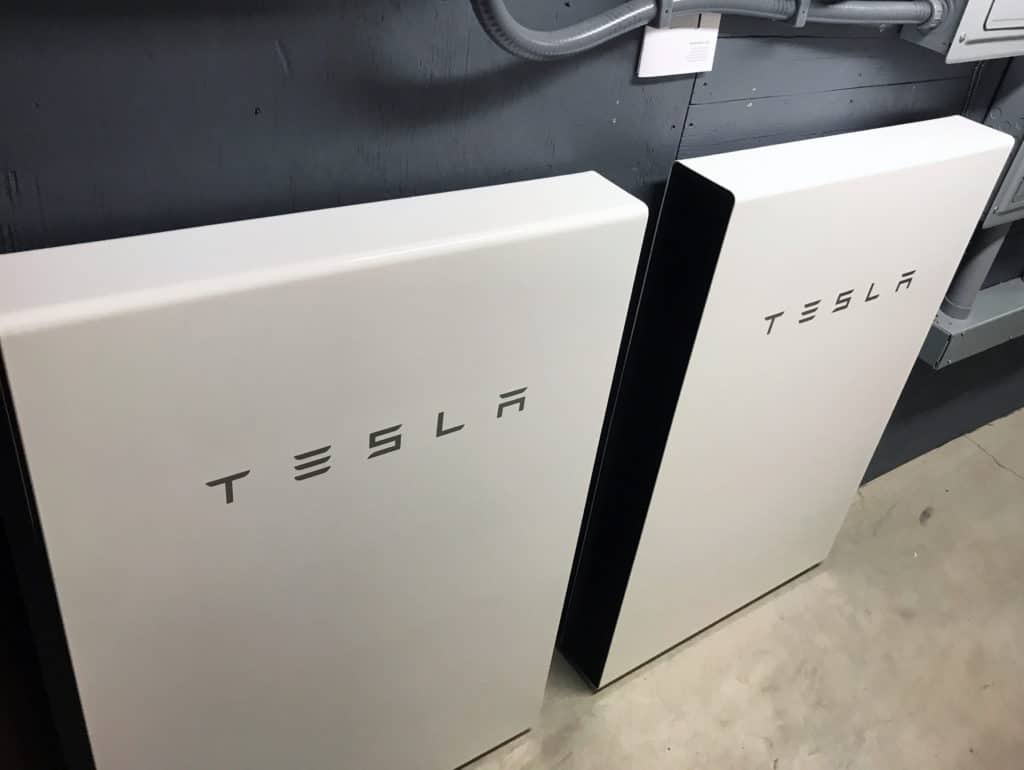 The benefits of Powerwall extend beyond emergency response. During the summer, when temperatures increase and homes all over the state are blasting the air conditioner, the use of stored power can ease the burden on the grid. This can keep energy use, and the costs associated with it, from spiking. When one person invests in Powerwall, they're helping their entire community.
Resilient Homes
Powerwall's stored energy can last days as you go about your daily life. With Powerwall, you're no longer powerless. Big storms bring with them lots of anxieties: you're worried about your home, your car, your schedule, yourself– the list goes on. Powerwall eases that burden. When the forecast says there's a Nor'easter on the horizon, you can rest easy knowing that the food in your fridge won't go bad. You don't have to scour the house for candles and flashlights or pull out all the blankets for when the heater goes out. With WiFi running and power going to outlets, you can use your laptop to work from home and not have to worry about falling behind. You can brew a hot pot of coffee, make fresh toast, and take a warm shower in the comfort of your powered home when there's a blizzard outside.
Even with all these activities, one fully charged Powerwall will run for 44 hours. Three will run for 132 hours. That's five and a half days of feeling safe in your own home and confident that your life will keep moving. Here are a couple more examples of how Powerwall can maintain your normal home life when the weather is not.
Maybe you decide to use the day to get some chores done. With Powerwall, you can power the essentials in your home as well as wash clothes, vacuum, and do the dishes.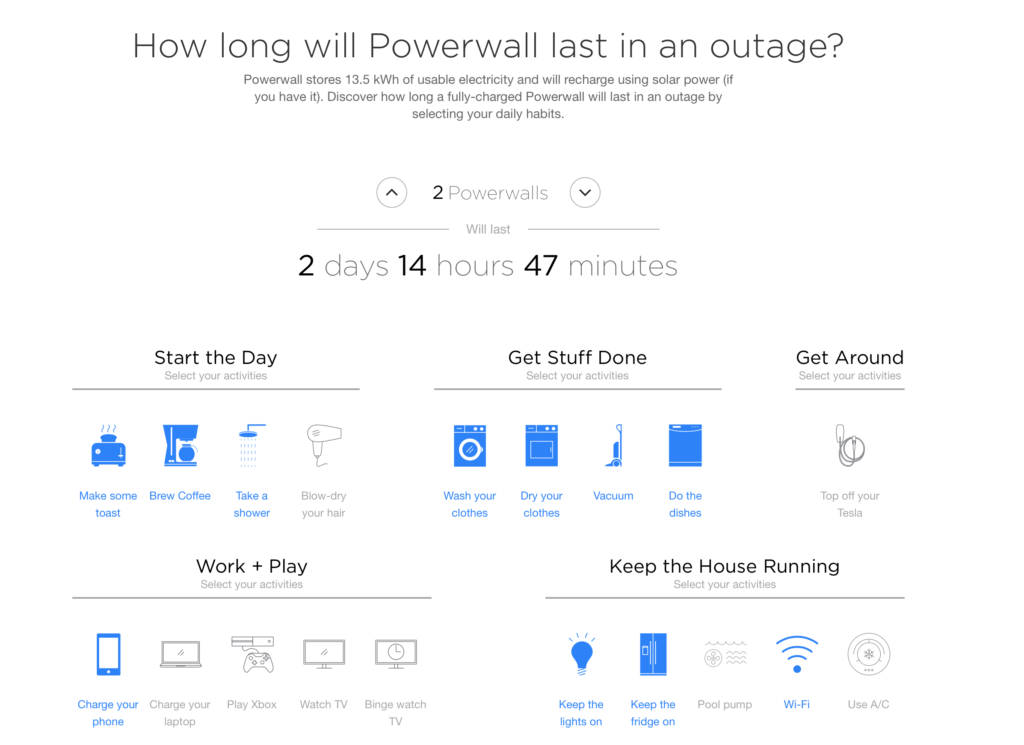 Or maybe it's a lazy day, and you take a well-deserved break. With Powerwall, you can power your home as well as your devices and fun electronics.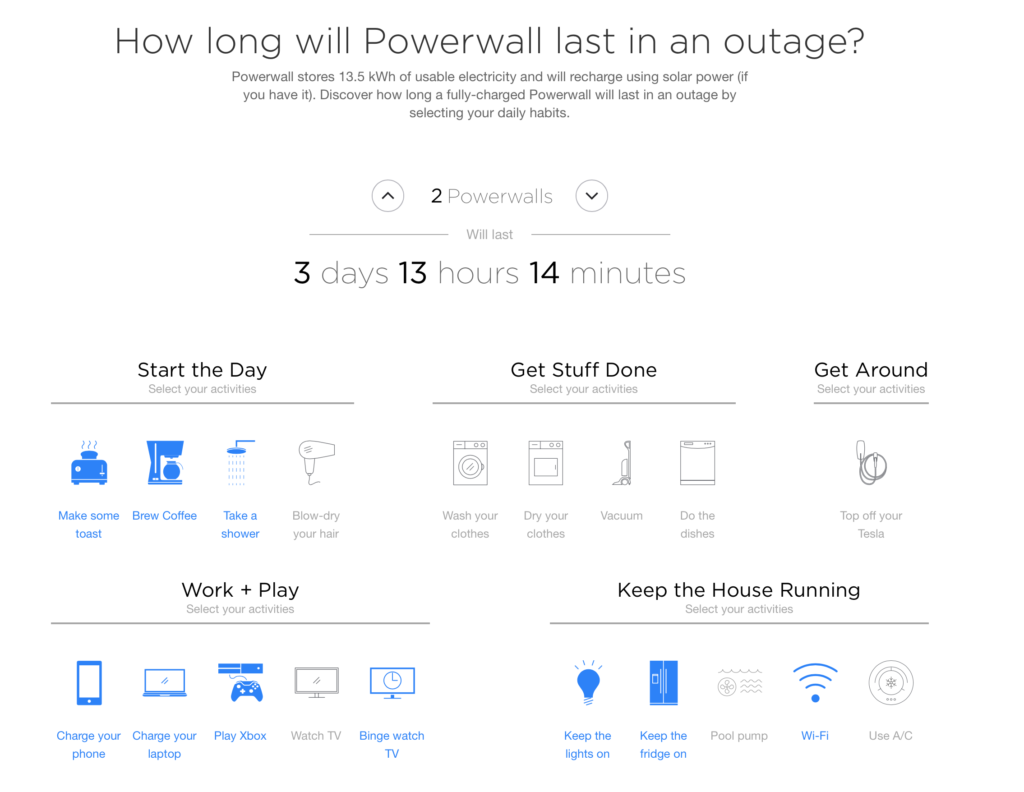 Curious how Powerwall can make a difference in your life? Here's a resource that can tell you.
Sources:
Hundreds of Thousands of Power Outages as Nor'Easter 3 Hits
After the Hurricane, Solar Kept Florida Homes and a City's Traffic Lights Running
Why It's Time for Cities to Get Smart About Energy Storage
How Long Will Powerwall Last in an Outage?