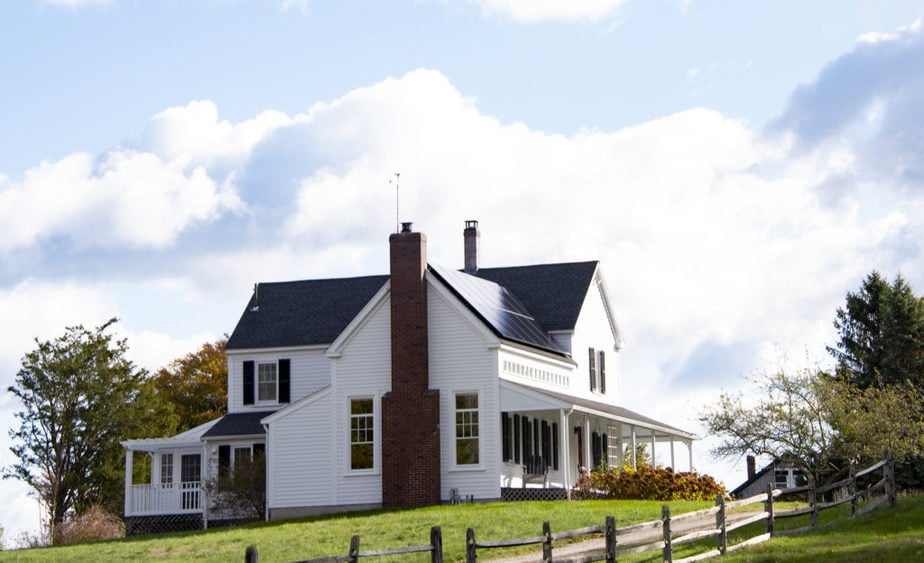 It's no secret that solar panels function their best when they are exposed to direct sunlight. However, it's less well known that even without direct light, your solar panels can still produce energy. Cloudy days may mean your solar system produces less energy than normal, but it does not mean your system will be completely useless. Here, we'll go over some details on what a cloudy day means for your solar system and how you can keep your home electrified, even without clear skies.
What Do Clouds Mean for Energy Output?
New England is known for its weather variations, so it's important to know how owning a solar system works New England. Cloudy skies will diminish the amount of electricity that your solar system produces, but your solar system will not stop producing electricity entirely. Even without direct sunlight, if the sun is shining, your panels will be able to use it to generate energy. However, on a particularly cloudy day, it is possible that your solar system may operate at 10-25% of their usual power.
The amount of energy that your solar system generates in cloudy weather depends on the efficiency of your panels. Different solar cells can capture wider ranges of UV light than others, which means even in cloudy conditions, they can produce more energy. Some solar panels also have a mirror on the bottom of it that bounces light back through the panel. This ensures that the panel can absorb as much light as possible, even if it misses some the first time the light passes through it. This is why it is important to invest in higher efficiency panels. Doing so will ensure that even in cloudy weather, your panels will be generating the most electricity possible.
Solaria solar panels are some of the best when you're looking for high performance, even in cloudy conditions. Solaria panels have proven themselves to continue producing high amounts of electricity, even with less direct sunlight. These panels have also been effective with some shady conditions as well, making them a great choice if your property has trees or other obstacles that might cast shade onto your panels.
It is important to note that solar proposals and estimated solar savings provided by Solaris Renewables account for shade and fluctuating New England weather.
How Can I Combat the Diminished Electricity Generation On Cloudy Days?
As much as we may want to, controlling the weather isn't possible, so cloudy days are inevitable. Let's look at some ways to ensure that your solar system will produce as much energy as possible, even on a cloudy day.
Pay Attention to Your Solar Design and Chosen Solar Panels
The location of your panels on your house can make or break your energy production. Panels should be facing southward and be decently unobstructed. South-facing, unobstructed panels will receive the most direct sunlight per day, and therefore generate the most amount of energy. This means if you have any trees or other buildings that may be casting a lot of shade onto your panels, you could have an inefficient solar system.
Ensure that you're using a reputable and trustworthy solar installer, like Solaris Renewables,  and work with them to be certain that your panels are designed efficiently. Solaris uses only premium solar panels when designing systems. We also work hard during the design process to ensure that your solar system is designed to be as efficient as possible. Our Project Developers and Engineers will work with you to place your panels where they will get the most direct sunlight as possible, even during cloudy weather. With our solar designs, you can be confident that even if clouds are blocking some direct sunlight, your panels will be providing you the most energy possible.
Keep Your Solar Panels Decently Clean
Solar panels can become inefficient if they are not kept clean. If your panels get dirty, consider having them sprayed down, or wait until the next rain storm. Dirt on top of your panels can prevent sunlight from reaching them, thus diminishing their energy output. This can become especially apparent on a cloudy day, where the sunlight reaching your panels is already pushing through a cloud. Dirt, debris, and pollen only further inhibit solar production. Therefore, keeping your panels clean will ensure that you are getting the most energy possible.
Take Advantage Of Net Metering
Net metering also helps you keep your home energized during cloudy weather. In most areas of Massachusetts, you can participate in net metering when your solar system is over-producing electricity. This often happens when your solar system is getting a lot of direct sunlight in the hotter months, allowing it to produce more energy than your household needs. Instead of wasting this excess energy, you can automatically sell it back to your utility company in exchange for credits. These credits can then be used on future electricity bills.
If the cloudy weather is preventing your solar system from producing enough energy to cover your daily needs, then you may need to use grid electricity to continue powering your home. However, because of net metering, your energy credits can be used to lower or even entirely cover the electric bill from your utility company.
Utilize Battery Storage
One of the best ways to combat diminished energy output is a battery storage system. Your solar system can be connected to battery storage that will charge when your panels produce excess electricity. This battery remains at full charge in your house until your panels struggle to produce the amount of electricity that you need. This can happen on a cloudy day because your panels will see less direct sunlight and thus generate less energy.
Instead of pulling energy from the grid to make up for the losses caused by cloudy weather, you can pull from your stored solar energy. The battery in your home will be able to cover electricity that your panels can't generate due to the clouds. Once the clouds dissipate and your solar system is up to its full potential, it will charge the battery back up so that it will be available on future cloudy days.
Don't Let a Cloudy Day Get You Down
Cloudy weather can put a damper on your solar system's production, but there are plenty of ways to stay solar-powered on a cloudy day without paying extra money. Cloudy weather comes and goes, and your panels will still be producing enough electricity for your household even if you have some clouds in the sky. Ultimately, cloudy weather is not significant enough to overshadow the benefits from going solar. Get in touch with Solaris today to get started with installing solar.
Go Solar With Solaris Renewables
Fill out the form below to learn about the options for adding solar panels and other clean tech to your Massachusetts or New Hampshire home.