What Is Solar Energy?

Did you know that the sun is an abundant and renewable energy source? It's true! The sun has been providing energy for billions of years. In the past, solar power has been used for cooking, drying clothes outside, and providing heat. In your life, you have probably used smaller gadgets powered by solar energy, such as a calculator. However, solar energy can power bigger things, too! A Swiss pilot, Bertrand Piccard, successfully flew around the world powering his plane with just solar power!
Solar energy isn't just renewable – it's clean! On the other hand, coal, natural gas, and other fossil fuels are not good for the environment. They create smoke and pollutants which are harmful to our health or the planet. This is why solar power is such a good option. And since it is a renewable resource, we can continue to harvest its energy for countless years to come.
With present technology, we can use solar energy to create electricity for buildings like our homes and schools. Today, solar panels are used around the world to create clean power. In this article, we'll go over how solar panels work and the benefits they provide, but first, we will give some quick definitions to help going forth.
Renewable energy: a form of energy that is naturally unlimited or can be easily replenished
Direct current (DC): the current collected by the solar panels when the sun's waves hit it
Alternating Current (AC): the current used for electric appliances in a home or building
Grid: a network that provides electricity to homes and buildings through wire transmission, often from fossil fuels
Solar cell: the part of the solar panel that captures the sunlight to make energy
Solar panel: an electrical device used to collect energy from the sun to convert it into power
Solar array: multiple solar panels circuited together
How Do Solar Panels Work?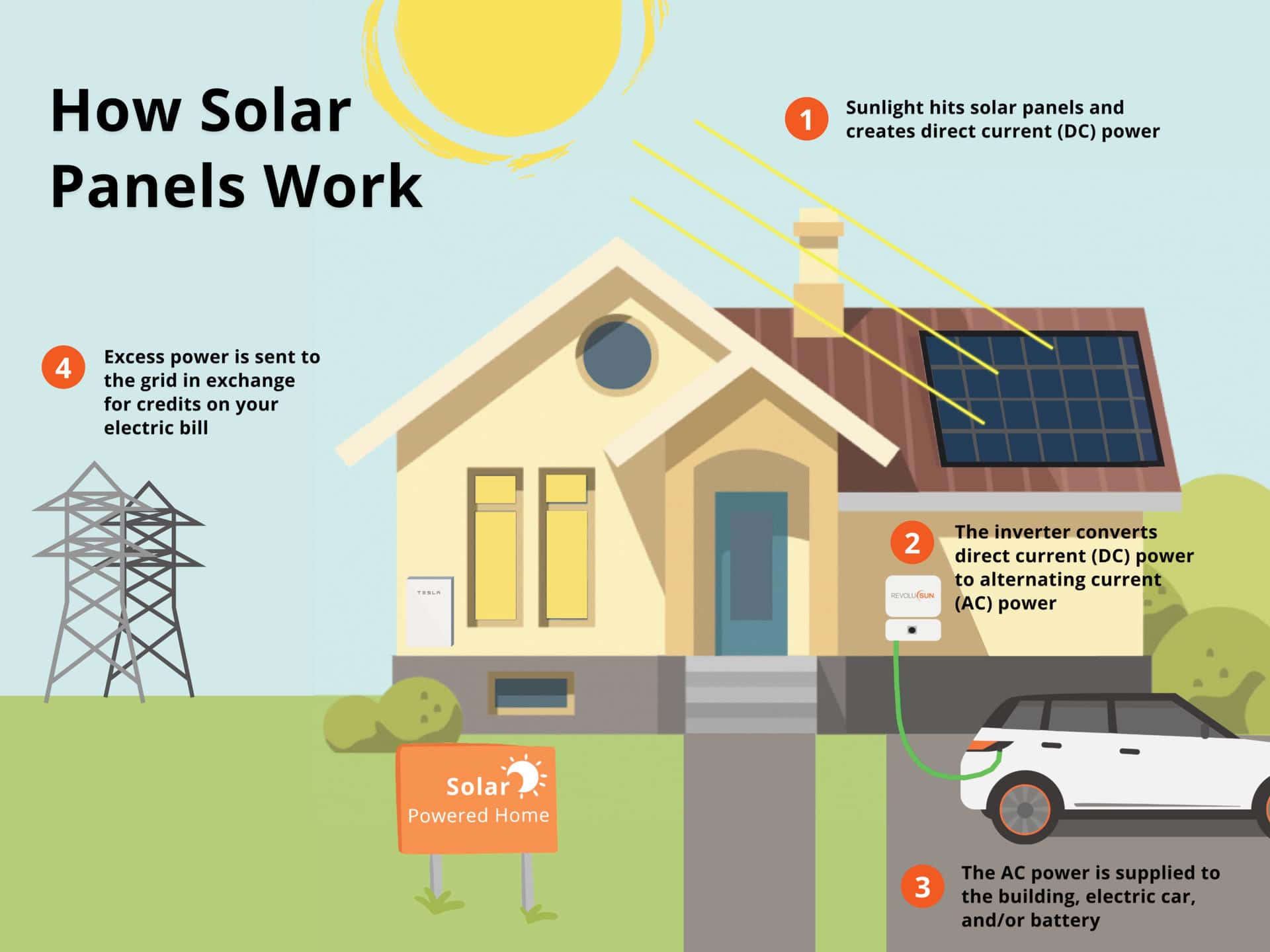 Now that we understand what solar energy is, we can begin to tackle how it creates electricity. Here are the steps a system takes to make solar power:
 The sun's radiation hits the solar panels and produces electricity as a direct current (DC) power.
 However, this energy is not usable yet – it must go to an inverter first. The inverter converts DC power into electricity that can be used by the home or building called alternating current (AC) power.
 Once AC power has been created, it goes to the home or building, electric car, or battery. By using AC power, you can do things such as play your video games, charge your tablet, keep a cold snack in your refrigerator, and turn on a light when it gets dark outside.
 Sometimes, you may not use all the electricity your solar panels have generated. If that is the case, there are a couple of options for that extra energy.
It could be sent back to the grid in exchange for credits onto your electricity bill. This means that your family will save on their next bill based on how much additional, unused power was leftover. This process is called net metering.
You also could have a battery system installed in your home that can store your extra power. These batteries are bigger than the ones that go into your TV remote or toys. Having a backup battery system means you can store your solar power to use whenever you need it most, like when the power goes out.
Solar Panels In the Sunlight vs. On a Cloudy Day
Solar panels operate throughout the year but perform the best during sunny days. This means that there will not be as much energy produced in the evenings since the sun goes behind the moon. A common misconception is that solar panels work better when the temperature is warmer, but in fact, they can be just as effective, if not more effective, when it's cooler.
You may see that solar panels generate less power on days with bad weather. This makes sense because when stormy clouds are in the sky and sunlight is not out as much to hit the panels. Once the sun is out again, solar panels will produce maximum power again. However, you can use your net metering credits to offset any electric bills you might get during cloudy months.
Here in New England, we face many different weather conditions such as snow, rain, wind, and hail. One great thing about solar panels is that they are very durable, and are able to withstand all of these conditions. Solaris Renewables solar systems come with a long warranty in case any damage happens to your solar panels from bad weather.
Learning More About Solar Panels
By supporting solar panels, you are doing your part to protect the environment and live a sustainable life. We want to protect our Earth so we can continue to live a healthy lifestyle on this planet. Reach out to us if you have any questions, or check the resources below for more on solar panels.
More Resources About Solar Energy