Year after year, Massachusetts has been recognized as one of the most energy-efficient states. The Commonwealth has set ambitious sustainability targets, and its commitment to meeting these climate goals has made solar a worthwhile investment for homeowners and businesses. With thorough incentives, pricey utility rates, and an environmentally-friendly culture, Massachusetts is a haven for solar fanatics. Massachusetts homeowners even typically see a quicker return on investment than those in other states. Here are our favorite reasons why Massachusetts is the best state for solar power.
Climate Action Policy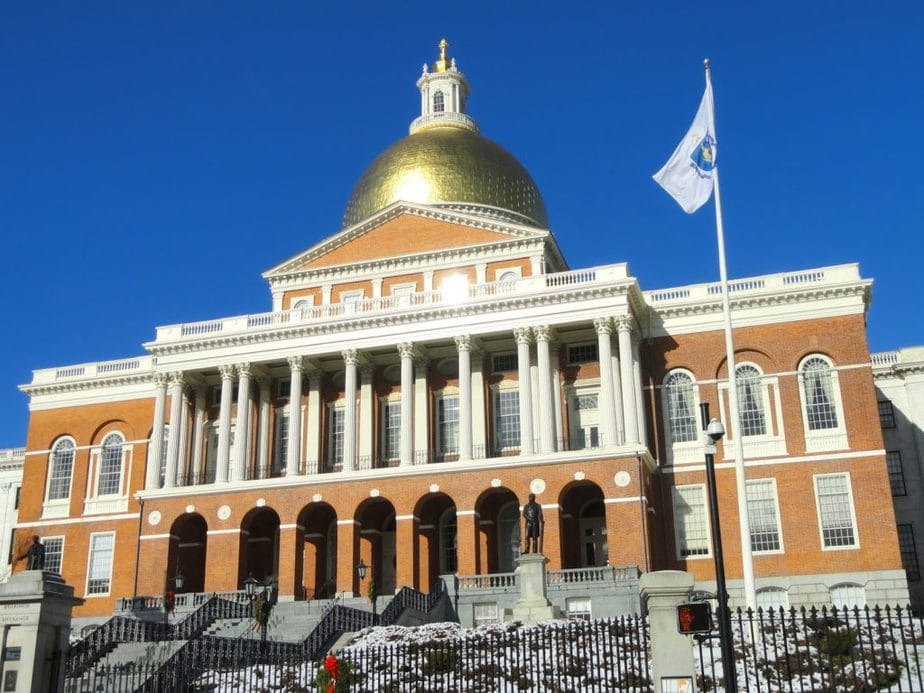 In an effort to protect communities and ensure the health and safety of future generations, Massachusetts has led our nation in addressing climate change. The Global Warming Solutions Act (GWSA), which the state signed into law in 2008, pledged to reduce greenhouse gas emissions 80% by 2050, and, in April 2020, Governor Charlie Baker declared net zero greenhouse gas emissions as the state's new legal emissions limit for 2050. The State is making progress toward these goals through policies that support the development for offshore wind, solar, and battery storage technologies.
An Act to Advance Clean Energy (H.4857) is another landmark legislation that propelled the Massachusetts clean energy industry forward. Among other notable actions, it updated energy efficiency policies to take into account new energy storage technologies, set a new energy storage target, and raised the renewable portfolio standard (RPS) so the state will be required to get at least 35% of their energy from renewable sources by 2030. With these aspirational goals and the policies that support them, the state is doing its best to decarbonize the electric sector.
Solar Incentives in Massachusetts
To achieve climate goals, the government is urging homeowners and businesses to adopt renewable energy and is providing them incentives to do so. There are a variety of performance-based programs and tax credits available to Massachusetts homeowners that make solar a lucrative investment. 
SMART Program
Massachusetts currently offers performance-based incentives through the Solar Massachusetts Renewable Target Program (SMART). With SMART, either Eversource, National Grid, or Unitil directly rewards you for every kilowatt-hour of energy you produce. Over the course of ten years, you'll receive monthly checks based on your electricity generation.  
Federal & State Tax Credits
In addition to the performance-based incentives, Massachusetts residents are entitled to federal and state tax credits. The Federal Investment Tax Credit (ITC) reimburses solar owners for 26% of the total price of their solar installation, and Massachusetts offers a 15% state tax credit that's worth up to $1,000.
Net Metering
Most cities and towns in Massachusetts also compensate grid-tied solar owners through net metering. When your solar panels generate more energy than you need, you can send your surplus electricity to the grid and earn credits for that electricity. At a later time, usually when the sun isn't shining as much, you can use those credits to pay your utility bills. Ideally, in Massachusetts, you want to overproduce energy between March and October, when there's the most direct sunlight, and then utilize those credits in the winter months when production is lower.
With this billing mechanism, you're able to save in electricity costs, reduce strain on the grid, and power your home and neighborhood with clean energy. As a solar-savvy state, Massachusetts offers some of the strongest net metering policies in the country.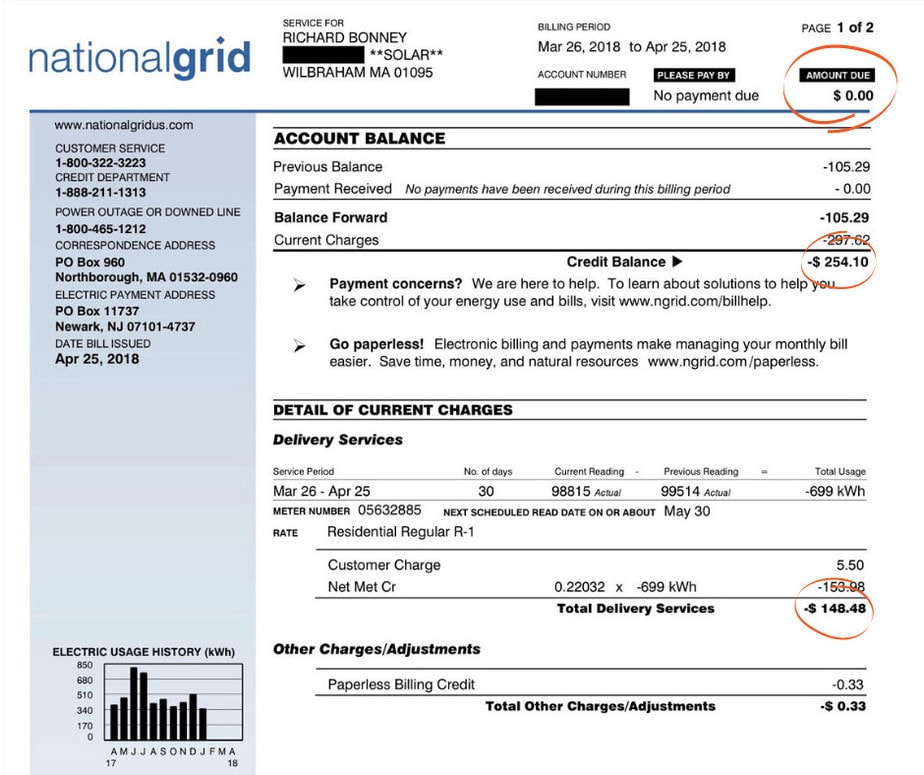 High Electric Rates
Electric rates in Massachusetts are nearly double the national average. According to the U.S. Energy Information Administration, residential electricity prices in Massachusetts were 23.24 ¢/kWh in April 2020, while the national average was 13.28 ¢/kWh in April 2020. To make matters worse, electricity rates increase around 5% every year. Though these steep prices are headaches for most homeowners, for solar owners they result in more savings. 
Our electricity rates are one of the key reasons why Massachusetts homeowners see a return on investment sooner than solar customers in other states. It typically only takes Massachusetts homeowners between six to eight years to see a full return on investment, and, due to the superior quality and performance of our systems, our customers usually see returns within five years. For commercial customers with larger systems, this payback period can be even quicker. For example, after we installed solar panels for Lookout Farm Brewing & Cider Co. in Natick, Massachusetts, their system paid for itself within two and a half years.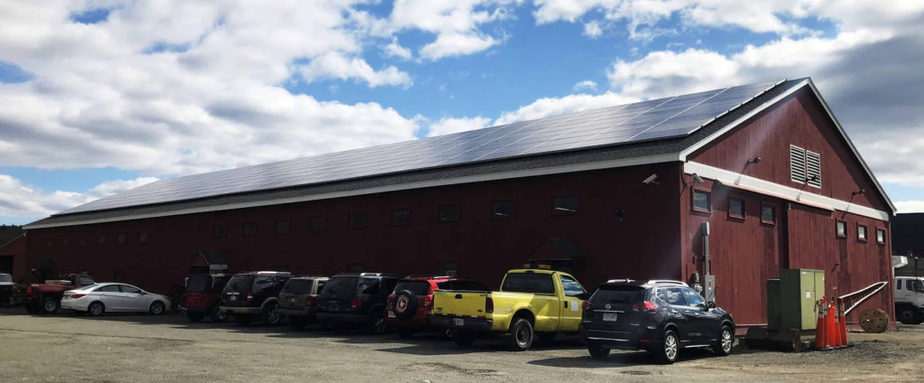 Increased Home Value in Massachusetts
Regardless of which state you call home, evidence suggests that adding a solar system to your property increases resale value. Research from Zillow reveals that over 80% of homeowners keep an eye out for energy-efficient features when looking at homes. Additionally, data shows that homes with solar not only sell faster than their non-solar counterparts, but they sell for an average of 4.1% more. This echoes findings published by Berkeley Labs in 2015, which found that solar adds an average of $15,000 to home value. 
In another study, the Department of Energy Sunshot Initiative teamed up with realty firm Redfin and found that solar panels boost the value of Northeast homes considerably more than homes in other states. For Worcester, the median sales-price increase was $45,000. For Boston, the increase was even higher, with properties with solar selling for approximately $179,251 more than those without. 
Though these studies consider different factors when determining how much solar affects home value and therefore project different values, there's unanimous agreement that you'll get more value out of your home if you go solar. When homeowners understand their power consumption, they realize the energy cost savings associated with solar energy. They're willing to pay more money upfront to minimize future electricity bills.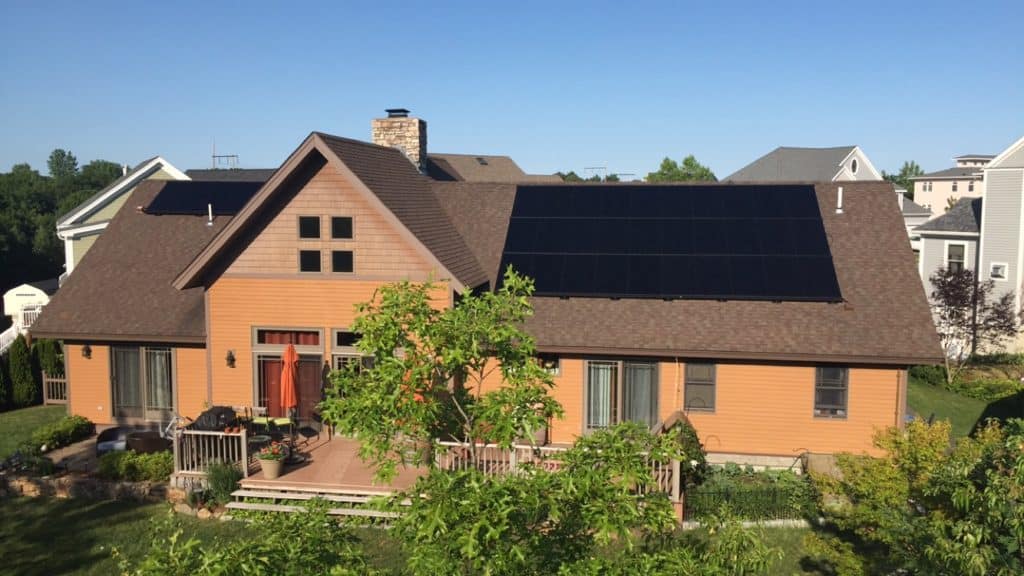 Other Factors That Influence Going Solar

Culture
A large percentage of Massachusetts is environmentally-conscious, so if you choose to install solar panels on your home, you're joining a crowd of like-minded individuals. Sustainability initiatives across the state demonstrate how Massachusetts culture supports a green future. From community composting programs like Project Oscar to the plastic bag bans that swept the state, there are a wide variety of efforts that illustrate how the state is leading the nation in sustainability. 
Electric Vehicles
Solar panels and electric vehicles complement each other nicely, and for many Massachusetts homeowners, this synergy multiplies the benefits of installing solar panels. Massachusetts even has the third highest percentage of hybrid and electric vehicles. On top of that, though Massachusetts is a small state, we have the eighth most electric vehicle charging stations and outlets in the country. 
Generous state incentives are one of the reasons why electric cars are so popular in Massachusetts. Consumers who purchase electric vehicles are eligible for rebates up to $2,500, and the state recently broadened these incentives to include nonprofit and business fleets. Coupled with solar reimbursements and performance-based incentives, this rebate makes the combination of solar energy and electric vehicles even more enticing for Massachusetts residents.
Is Solar Worth It In Massachusetts?
If you're a Massachusetts homeowner, outfitting your roof with solar panels provides a multitude of benefits. Solar gives you an opportunity to both save money and earn money. You'll slash your high electricity bills, increase your property value, and earn additional income through incentives. On top of that, if you're one of the many Massachusetts homeowners with an electric car, you get even more out of your solar investment. 
Help Massachusetts Go Green
Your solar installation helps you join your community in leading the nation in sustainability. Let's talk more about clean energy and transitioning to a greener lifestyle. We'll help you save money and reduce your environmental impact, just like your neighbors.