When it comes to having solar panels at your home or business, you may be wondering how much care and maintenance are needed to keep them in prime condition. A common misconception is that solar panels need regular upkeep. In general, panels require little to no maintenance at all throughout their lifetime. Still, there are a few ways to ensure your solar panels will continue to be as effective as possible.
Proper Solar Panel Installation
One of the most important things that affect how much maintenance solar panels need is ensuring that they will be installed properly. You want to hire a reliable and professional installer that will work with you based on your home or business's needs. Something to also take into consideration is the type of solar panel you select. You'll want to think about factors such as wattage, efficiency, and durability.
Lastly, you need to make sure the warranty for the panels is sufficient, should any maintenance needs arise. Solaris Renewables warranties solar systems for 25 years. Our coverage also includes a roof warranty, which lasts for 20 years or the remaining lifetime of the shingles. With a strong warranty, you can rest assured that you are in good hands during any possible weather events.
Solar Panel Maintenance During Weather Events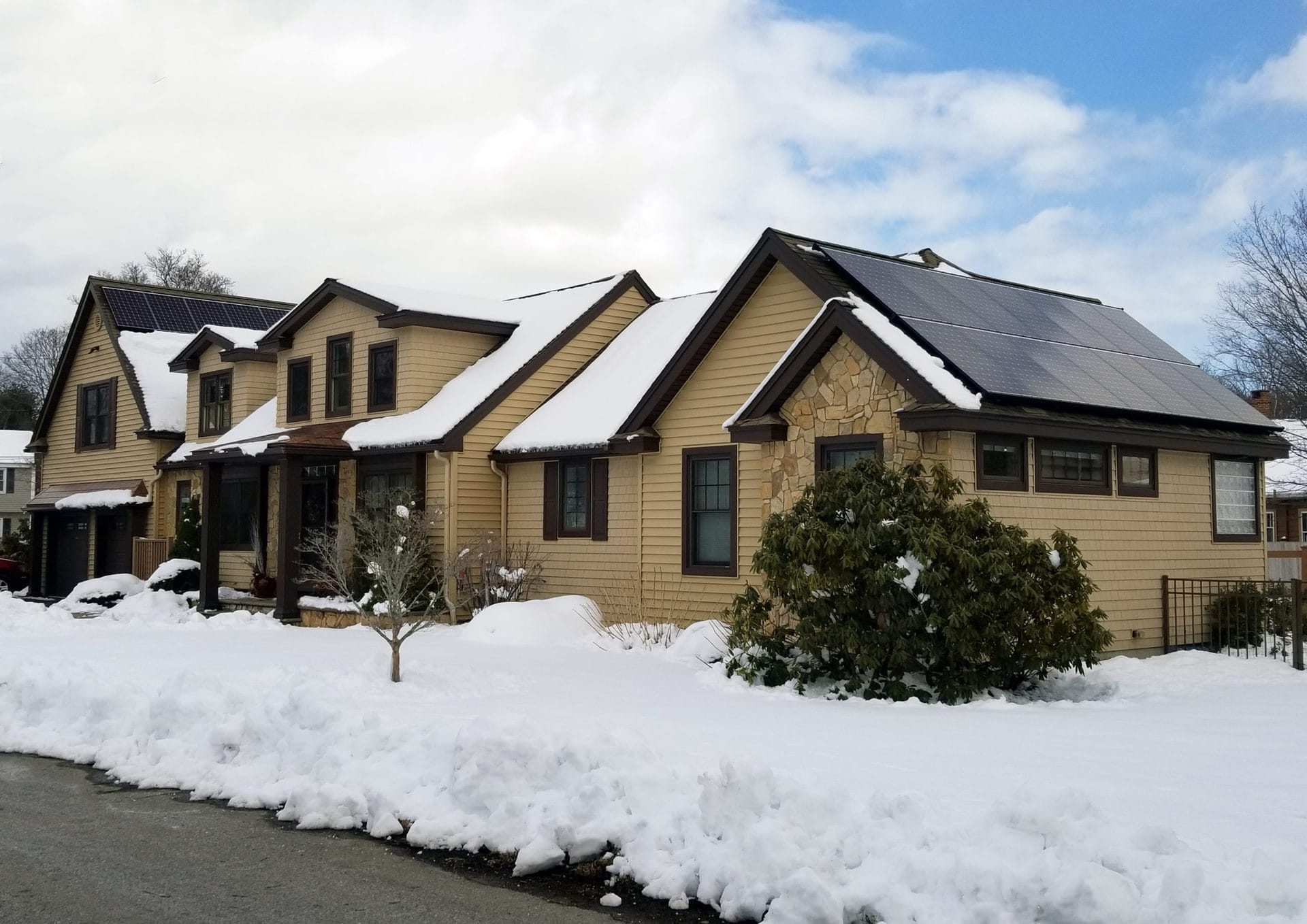 Your solar panels will go through many different types of weather conditions, especially if you are in New England. However, solar panels are extremely durable, weather-proof, and water-resistant. Top-tier solar panels are also built to withstand heavy winds, rain, and hail. This is good news because it means you won't have to worry too much about your panels in the chance of inclement weather events.
There are still some instances, such as snowstorms, where you may be wondering if there is more you should do for your solar panels. In general, you will see that snow tends to melt off your solar panels after a full day of sun. If there is heavier snow, there are a few recommendations based on the type of panel you have. You can brush the snow off of panels easily on ground-level and one-story solar installations. If you have a system on a two or three-story home, you should be more careful. Never climb onto your roof to manually wipe the snow off; only work from the ground if you really need to get the snow off. We suggest an extended snow brush that allows you to wipe the snow off safely from the ground. Be patient; eventually, the snow will melt off of all solar panels.
One other concern might be any pollen that could land on your roof in the springtime. Again, there is not much you need to worry about in this situation. Your energy production won't be too affected, so the best thing you can do is wait for the rain to wash all of it off of the system. Similarly, in the fall, let the wind and rain remove any debris or leaves that may fall onto your solar panels.
It's important to note that your Solaris Renewables solar proposal accounts for temporary drops in energy production because of the seasonal elements we described above. We size systems accordingly to meet your energy needs and weather conditions. From April to September, you'll typically see solar systems overproduce electricity. When systems do this, it provides the chance to take advantage of a program called net metering. Net metering allows the surplus electricity to get sold to utility companies, which then appears as a credit onto your bill.
There still may be times where you are unsure if your panels are performing properly. The next section will provide you with information on how to know if you need to contact a professional for solar panel maintenance.
How to Know If Solar Panels Need Maintenance
Top-tier solar panels are built to last around 40 years, most of the time with little upkeep necessary. Like all electronics, the power output of your solar system will decrease over time, but only marginally.
It's important to monitor your system frequently. With the SolarEdge app, you can check your energy production from anywhere, anytime. By seeing how many kilowatts of power your system is producing, you can also notice any possible anomalies in your system's production so you can then call us right away to report the anomaly.
On rare occasions, hail, rocks, or other natural elements might fall onto panels and fracture them. In that case, we can assist you with any concerns you may have based on what is covered under your warranty when maintenance may be necessary.
Reminders for Solar Panel Care
To conclude, we have just a few key suggestions for the maintenance of your solar panels. Above all else, please be cautious when cleaning your solar panels. If they do face any type of damage at all, do not climb on your roof to get a closer look. Feel free to contact us with any questions about solar, and we will gladly assist you with the situation. We have a mission to protect your investment, which means we will take the proper care of your system and perform any upkeep it needs.